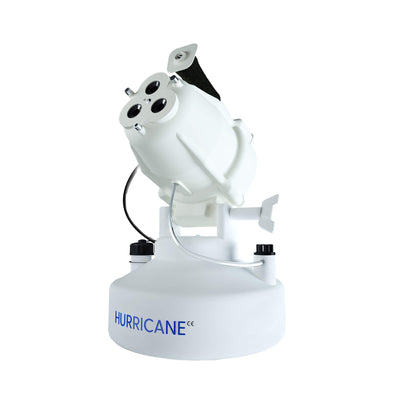 Hurricane Fogger
Powerful multi-purpose fogger designed for fast effective distribution of water based mould solutions
The process of fogging was first developed in the 1940's for use in wartime aviation. Subsequently in the 1950's, fogging machines were adapted and developed commercially for use.
Fogging is the process of using large volumes of air at low pressure to transform liquids into tiny droplets that are dispersed into the atmosphere. These Ultra Low Volume (ULV) droplets are perfect for the application of mould solutions.
How to remove mould with a Hurricane Fogger
We recommend using the Hurricane Fogger with Micro Balance EC3 Mould Solution Concentrate.
Area Coverage using Microbalance EC3 Mould Concentrate
One bottle of Microbalance EC3 Mould Concentrate will cover about 325m² (3500 square feet) when used in the Hurricane Fogger.
In comparison one bottle of the Micro Balance EC3 Mould Solution Spray will treat around 37m² (400 square feet).
Using the fogger is much more efficient.
Hurricane Fogger Performance
This product is the Hurricane Fogger and covers 4.09m²/min.
If you want a higher coverage you may like to consider the Hurricane ES - Electrostatic Fogger which covers 6.075m²/min.
Product Benefits
The Hurricane Fogger caters for solvent, oil and water based formulations.
Made in the UK CE approved & independently verified.
Fast, effective and economical 2 Year Warranty.
Product Features
The fastest and most effective way to distribute EC3 Mould Solutions.
On/off switch with light
High capacity charging system
3 precision nozzles for greater output capacity
Adjustable locking device
Removable filling cap with tether
Stainless steel precision metering valve with filter
Translucent corrosion and impact resistant tank
Technical Specifications
| | |
| --- | --- |
| Tank size | 3.8 litre |
| Flow rate | 0 - 120ml per minute |
| Droplet size | VMD 40 – 70μm |
| Droplet throw | 4.5 metres |
| Droplet plume | 4.6 metres |
| Coverage | 4.09m²/min |
| Formulations | Solvent, Oil & Water-based |
How to use the Fogger with EC3 Mould Concentrate
Fill fogger drum with EC3 Mold Solution Concentrate diluted per bottle instructions.
Use the calibration dial to select the spray volume needed.
Enter the room or space where the fogger will be used. Plug the fogger into your power outlet. (We suggest using an extension cord to have more ability to move around a room or an object for best coverage.)
Turn the fogger on and disperse the mist in a steady up/down motion, so that it fully fills and covers a room, or so that it is evenly applied all over a surface or object.
Hold the fogger steady with the handle to ensure a steady flow of EC3 through the machine.
Turn off when finished.
Drain and clean fogger after use.
EC3 Mold Solution Concentrate is safe for all materials, surfaces and fabrics. It is safe to treat items and areas as often as needed. EC3 Mold Solution Concentrate is safe for children and pets, does not off-gas, contains no harmful chemicals, and is not toxic. The fogger is best used to treat larger areas or items.