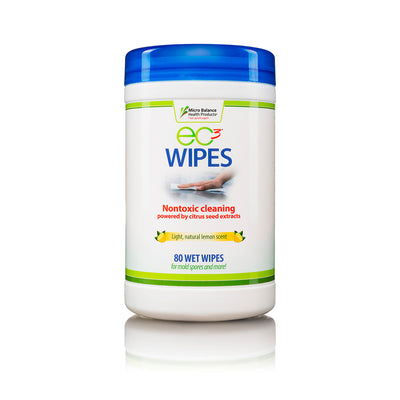 Micro Balance EC3 Nontoxic Cleaning Wipes
Clean, deodorise, and tackle mould spores anywhere and everywhere with EC3 Nontoxic Cleaning Wipes
These unique cleaning wipes are doctor-designed, nontoxic, and powered by our lab-tested and proven blend of citrus seed extracts

EC3 Wipes are perfect for use on fiberglass, sealed stone and marble, laminate, bed frames, toys, computer keyboards, auto interiors, sports equipment, painted surfaces, nonporous surfaces, sinks, vinyl, glazed ceramic tile, cabinets, metal, tools, door handles, PC mice, toilet seats, countertops, plastic, hard surfaces, trash cans, fixtures, light switch covers, and more! EC3 Wipes are also great for on-the-go cleaning and to keep in your car to wipe things down when you are away from home. Not only are they effective, but they work to lower mold counts and improve the health of your indoor surfaces/spaces without harsh chemicals, perfumes, or fumes.
For general cleaning:
Wipe the surface until clean.

For mould spores & mycotoxins:

1. Wipe the surface thoroughly, leaving behind a thin layer of EC3 cleaning solution.
2. Allow to air dry. No rinsing is required.