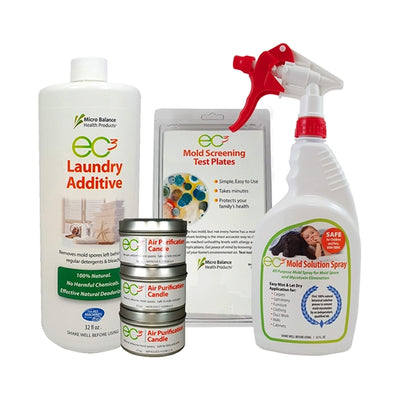 Micro Balance EC3 Environmental Kit
The Micro Balance EC3 Environmental Kit includes everything you need to begin testing for mould and cleaning your home
Shields against mould
All EC3 products are safe, non-toxic, and proven to be effective. Save by purchasing these products as a bundle.

The EC3 Environmental Kit includes:

Mould Screening Test Kit - 6 Pack
32 oz. EC3 Mold Solution Spray
32 oz. EC3 Laundry Additive
3 pack of EC3 Air Purification Candles
Mold Screening Test Plates
6 pack are formulated to culture the widest possible array of moulds. Find out where and how severe your mould problem is with our simple and affordable screening test for your home, office, and/or car. Directions and results key included.
EC3 Mold Solution Spray
An all-natural, botanically-based spray that is proven to decrease mould and mycotoxin levels on the hard and soft surfaces of your home.
The EC3 Laundry Additive
An all-natural, non-toxic, botanically-based rinse designed to remove the mould and bacteria that becomes trapped in your clothing and bedding. By adding two ounces to your regular wash, you will experience cleaner, fresher-smelling laundry. Regular use will also help keep your washing machine mould free and clean.
EC3 Air Purification Candles
3 Pack are a simple way to control mould levels in your indoor air. The heat from the flame aerosolises the natural botanicals embedded in the soy wax. The candles have no added fragrance, so as not to aggravate chemical sensitivities common in mould sufferers.