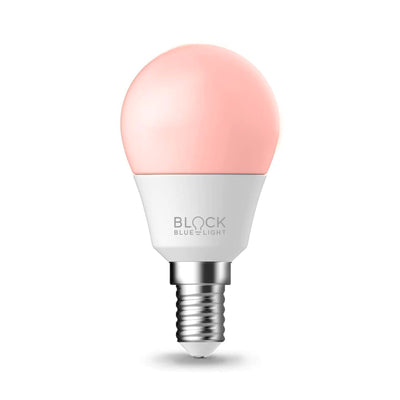 Twilight Red Light Bulb - E14 (Small Screw Fitting)
Twilight bedtime bulbs are the most optimal lighting to use before bed and during the night
Featuring our relaxing red-light spectrum, that is guaranteed to be 100% blue AND green light free, produce zero flicker, and low EMF.
100% Blue and Green Light Free Bulb For Lamps
Our Twilight Red Light Bulb is great to use before bedtime and is now available in a small edison screw fitting (e14) which is the perfect fit for most common lamps.
These bulbs feature our same proprietary spectrum technology to produce 100% blue light free, AND 100% green light free light with zero flicker and low EMF.
Green Is The New Blue
Green light is right next to blue light on the visible colour spectrum. Research shows that the range of light that interferes with our melatonin production extends from the blue range well into the green range. This is why our twilight red light bulb removes all green light as well, making it the ultimate light bulb to use before bedtime to ensure maximum melatonin levels.
We also have or same
Twilight Red Light Bulb
in the larger B22 bayonet and E27 screw fitting, designed to be used in larger lamps and overhead lighting. You can purchase these
here
.
Specs
Colour temperature: 1300k
Peak Wavelength: 630nm
Brightness: 400lm (40 Watt Equivalent)
Wavelengths blocked – 100% between 380-580nm
Input voltage: 85v-260v 50/60Hz
Power consumption (watts): 5w
Size: D50mm x H92mm
Base: E14 (screw)
Certifications: CE, ROHS, SAA, RCM