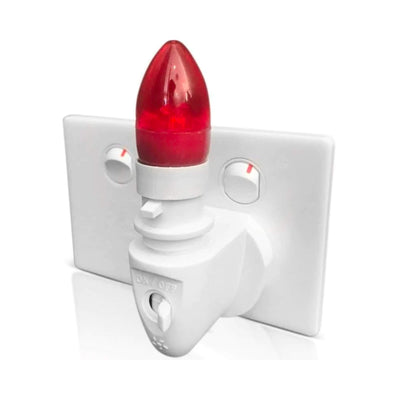 Red Plug In Night Light for Sleep
The red plugin night light is the perfect sleep promoting light
For use where a dim light source is required to take the darkness out of the room to navigate and see, but not so bright that it would be too simulating and promote wakefulness. Great for kids who are afraid of the dark, nursing mothers feeding at night, or the late night toilet trips. 100% blue and green light free.
Red Light (Zero Blue Light) Nightlight - UK Plug Version
Red Kids Night Lights are perfect for use after sunset to remove all harmful blue light from the environment. These are perfect kids night lights and plug straight into the wall and come with two LED low wattage light bulbs that emit zero blue light. These nightlights have a built-in on/off switch, meaning you can leave these plugged in.
These night lights are ideal for use throughout the house in the evening to provide enough light to see and navigate. They are also ideal for use in your baby's nursery or child's bedroom, down the hallway, or anywhere in the home you want to navigate at night without being blasted with blue light.
Need to get up in the middle of the night to use the bathroom? No problem, because we have you covered with this amazing red light night light! These lights are perfect and give you enough light to see at night without waking you up, allowing you to go back into a deep and restful sleep.
If you are looking for a more general-purpose lighting for your home with no blue light, we suggest purchasing a Sweet Dreams Sleep Enchaining Light Bulb.
The single pack comes with:
1 x wall socket nightlight lamp with on/off switch (UK Plug)

2x LED red light bulbs (one spare bulb)
Uses
Great for use around the home as they emit enough light to see without any harmful blue light
Perfect for use in the kitchen after sunset
Handy for children's bedrooms. Now you can use this red toddler night light without disrupting your child's melatonin production
Great for use in bathrooms for late-night toilet trips without disrupting your sleep from artificial blue light from regular light bulbs. Simply use a plug in night light, and you're good to go!
Ideal for a baby's nursery
Perfect in hallways so you don't need to turn on the main lights to find your way to your bedroom at night
Features
Nightlight socket + 2 Red LED light bulbs
LED red lights are super energy efficient
Bulbs are E14 C7 screw type
Power: 0.5W, 40 Lumens
Nightlight socket is CE approved with a E14 socket for 220-240V wall sockets (UK plug)
On/off switch on the front of the light socket
Zero harmful blue light production - all high NM wavelength light
20000 hour bulb life
Certified by CE for use and sale in UK