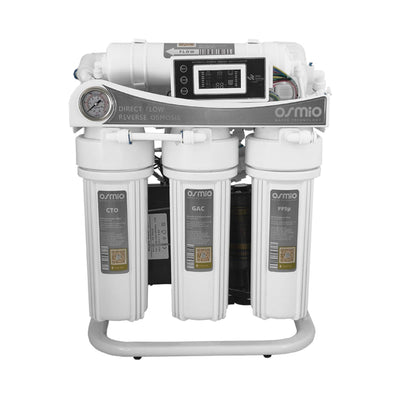 Osmio HT+ Home & Office Direct Flow Reverse Osmosis System
The Osmio HT+ Home & Office Direct Flow Reverse Osmosis Water Filter is great value and ideal for large households, home or offices
The Osmio HT+ Home & Office Direct Flow Reverse Osmosis System is a clean and modern, leading technology Direct Flow (No tank) reverse osmosis system that will ensure your highly purified water is on demand, and much easier maintenance. A major benefit of Direct Flow Reverse Osmosis versus conventional tank-based reverse osmosis, is the huge level of water saved by Direct Flow, not to mention there is no need to sanitise the tank. Bacteria build up of tanks is a primary reason why many systems end up getting poor membrane performance and sanitary level, due to bacteria build up and membrane fouling.
The Osmio HT+ Home & Office Direct Flow Reverse Osmosis System uses 400 GPD Direct Flow Reverse Osmosis Membrane to provide a freshly purified on demand flow (approximately 1LPM at 3 bar incoming pressure).
Ideal for homes and offices and coffee shops! Removes up to 99.99% of impurities from UK mains water.
Under the counter commercial system that generates osmotic level pure and remineralised water.
Total of 5 filters, hygienically packaged.
Smart Water - Analyses water, tracks filter lifetime and optimises system performance.
Saves over 30,000 litres per year of water, a huge saving for any property.
Small footprint / Easy installation, standing model - no mounting to walls required.
6 month filter lifetime (first 3 filters and 1 post filter), 12 month main filter lifetime (RO membrane)
Full, courteous support provided by experienced professionals.
The perfect solution for your home, office or business - comes complete with 304 SS Tap and Fitting Kit
The Osmio HT+ Home & Office Direct Flow Reverse Osmosis System is a digitally controlled reverse osmosis system with Smart Water capability that is specifically designed for dental and medical applications where deionised water is required. The system incorporates high quality filters, easy Plug & Play components and a digital controller which tracks filter lifetime as well as measure instantaneous water purity.
The system also comes equipped with a digital controller with Smart Water capabilities. HT+ continuously analyses the purified water and displays the results on screen. The system will know when water is consumed and immediately reverse flush the membrane filters afterwards to protect water quality.
The Smart Water System does many things in the background such as track water temperature, errors and filter lifetime in order to give the highest up-time possible while delivering the best experience. With the push of a button or by looking at the bar graph on the display, the user will know exactly how many days are left until the next filter change. The system will also create a sound alarm when it is time to change the filters and even cut the water flow if it is surpassed significantly.
The system comes with a 2 year warranty.
More Information
Model
Osmio HT+ Home & Office Direct Flow Reverse Osmosis System
In Depth
Osmio HT+ Home & Office Direct Flow Reverse Osmosis System
First 3 filters: 15,000 Liters or 6 Months whichever comes first
5 Micron Sediment Filter
GAC Carbon Filter
CTO Carbon Block
Every 2-3 years (this can be lower with very hard or poor input water quality)
400 GPD Reverse Osmosis Membrane
Every 6-12 months:
Antibacterial Water Filter. 5th Filter Has antibacterial silver impregnated calcium and magnesium and carbon
Technical Specifications:
System Dimensions 48cm Height x 36cm Width x 24cm Depth
System Weight 12 KG
System Capacity: 60 Litres / Hour @ 3 Bar
Incoming Hardness 35 °F Max.
Incoming TDS: 600 PPM Max.
Incoming Temperature: 10 - 30 °C
Incoming Pressure: 2 Bar Min. 4.5 Bar Max.
The system comes with 1/4" and 3/8" tubing
3/8" inlet
1/4" to drain and tap
Filter Parameter
Bacteria, E-coli, Chlorine, Sediments, Nitrates, Fluoride, Limescale, Dissolved Solids (TDS), Hormones, Pharmaceuticals, Heavy Metals
PDF Documentation Download
Installation, Operation & Maintenance Guide for the Osmio HT + Home Office Direct Flow Reverse Osmosis Water Filter

Warranty & Aftercare
This product comes with a 2 year warranty.