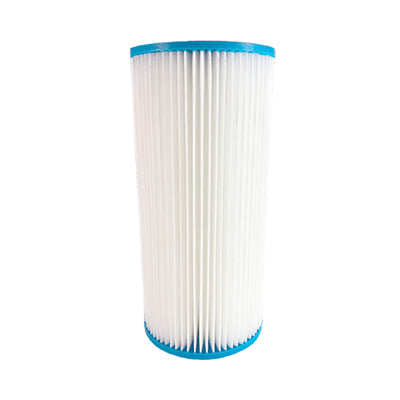 Osmio 4.5 x 10 inch Pleated Cartridge 5 Micron
The Osmio Full Flow Max 4.5 x 10 inch Pleated Cartridge uses chemically resistant pleated polyester media to provide increased surface area and longer life
Osmio Full Flow 5 Micron 4.5 x 10 inch Pleated Cartridge
The Osmio Full Flow Max 4.5 x 10 inch Pleated Cartridge outperform wound, spun, melt blown, resin bonded and other "depth" type filter elements. This is due to the chemically resistant pleated polyester media which provides increased surface area and longer life.The Pleated cartridge is cleanable and filters to 5 microns.
The length of filter life depending on the level of sediment in the water. The advantage of this pleated surface filtration is that the filter can be removed and washed down with a hose and reused. Therefore it is common for the filter life to be anywhere from 6 months to 2 years.
More Information
Model
Osmio 4.5 x 10 inch Pleated Cartridge 5 Micron
In Depth
100% cellulose free synthetic media for increased dirt holding capacity, longer life and reduced filter costs. No additives or binders.
Flow-Max jumbo cartridges are pleated for increased filter area, high flow and low pressure drop. Our engineered filter media is highly efficient to provide superior filtration. All micron ratings utilise 100% synthetic filter media, so there are no adhesives or binders to foam or contaminate.
Fits all standard large diameter (4.5 Inches) filter housings 10 inch (standard blue or clear)
Warranty & Aftercare
This product comes with a warranty. Terms apply. Please see the downloadable manual for warranty terms.