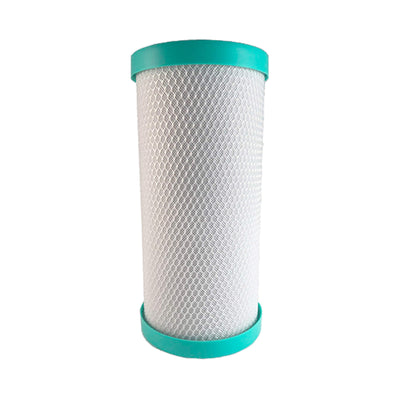 Osmio 4.5 x 10 Inch Carbon Block 5 Micron
The Osmio 4.5 x 10 Inch Carbon Block 5 Micron is suited to processes where the life of the carbon is never fully used
Osmio 4.5x10" Carbon Block Cartridge
The carbon range delivers a genuine balance between chlorine absorption, high dirt-holding and value for money. Suited to processes where the life of the carbon is never fully used. A carbon cartridge manufactured from acid washed bituminous Granular Activated Carbon (GAC) and extruded into a carbon block format. Constructed with an outer polypropylene wrap that protects and extends the life of the carbon block, capturing particles and preventing premature plugging. Top-of-the-line carbon block filter cartridge for chlorine, taste, odour and sediment reduction.
Competitively priced
Outperforms GAC cartridges four ways: 1. Superior chlorine reduction 2. Lower pressure drop 3. Will not channel 4. Lower cost
Media wrap between centre tube and carbon block to reduce carbon fines.
100% Coconut shell Carbon.
NSF Approved Product
More Information
Model
CTO 4510-05
Chlorine Reduction (litres):
> 12,000 US gallons@ 2.0 gpm
Flow (lpm):
7.6 - Initial @ Flow* 4.0 psid @ 3.5 gpm
Initial ‑p (bar):
0.5
Length ("):
9¾ 
Diameter ("):
4.5
10" Carbon Filter Specifications:
Outer polypropylene wrap extends the life of the block by preventing premature plugging.
Carbon block extruded from acid washed bituminous activated carbon.
Materials of Construction
Carbon Type: Acid Washed Bituminous
End Cap: Polypropylene
Gasket: Silicone (EPDM/Buna-N)
Core: Polypropylene wrap
Netting: Polyethylene 
Technical Data
Micron Ratings (μ) 5
Lengths (") 9¾
Maximum Operating Temperature (°C) 82
Maximum Operating Pressure (bar) 17
Chlorine Reduction (L)
Large Diameter 9¾" - 24,000 L
Length (nominal mm) 248
Outside Diameter (nominal mm) 107
Inside Diameter (nominal mm) 28
Warranty & Aftercare

This product comes with a warranty. Terms apply. Please see the downloadable manual for warranty terms.