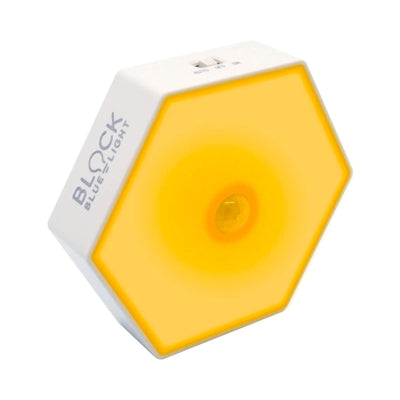 NoBlue Motion Night Light
The NoBlue Motion Night Light is a warm amber light source that is 100% blue light free with no flicker and low EMF
Featuring integrated rechargeable battery, dawn to dusk motion sensor, and magnetic wall attachment.
Amber Motion-Activated Night Light
The NoBlue motion-activated night light is the perfect night light that emits no sleep disrupting blue light and provides a dim warm amber light to guide you at night.
The NoBlue Motion Night Light Bulb is 100% blue light free, has zero flicker, and is low EMF
The NoBlue motion light has a three position switch. In the "ON" position, it continuously emits a warm amber light. In the "OFF" position, the unit is off. And in the "AUTO" position, the motion sensor will turn on the light in darkness when one passes within 4m of the light and within a 120 degree area.
Stick it on, hang it up, stand it up, set it down
The motion night light comes with a 3M magnetic attached back to stick to the wall, and a hanging attachment to hang on the wall, or it can be simply placed down on the floor
This is the ideal amber motion night light for your children's rooms, bathrooms, hallways, baby's nurseries, or simply anywhere you may need to walk to during the night.
Specs
Colour temperature: 1800k
Built-In Battery: 3.7V 800 mAh rechargeable Li-ion battery
Flicker Free Technology
Peak Wavelength: 585nm
Brightness: 100 Lumens
Wavelengths blocked – 100% between 380-500nm
Life: 30,000 Hours
Power consumption (watts): 2w