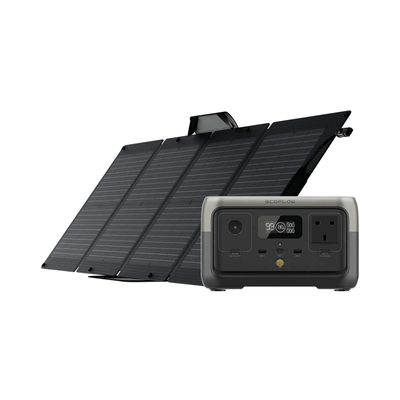 EcoFlow RIVER 2 + 110W Solar Panel
Power. Never Been This Easy

Fastest charging speeds ever

Lightweight at only 7.7 lbs.

Generates up to 300Wh daily.

Up to 23% conversion guarantees a fast solar charging speed: 0-100% in 3 hours (1 set).

LiFePO4 battery and IP68 dust and water resistance.

Smart remote control with EcoFlow app.

5-year warranty for RIVER 2 and 24-month warranty for 110W Portable Solar Panel.
Charge 0-100% in 1 Hour
RIVER 2 beats the industry charging speed standard, fully charging in only 60 minutes. That's 5x faster than other portable power stations on the market and 38% quicker than previous generations. Fully charge RIVER 2 while you pack your bags, so you'll always be ready for a last-minute trip.
Smart Battery Protection System

Our state-of-the-art Battery Management System (BMS) constantly monitors the voltage, current, and temperature of RIVER 2 with multiple aspects of protection, extending its life to the max.2
Charge anywhere

With 4 different ways to top up the RIVER 2 Series, there's a recharge option no matter what. From fast AC to in-car charging when you're on the go.

Small size. Big power.

RIVER 2 has an AC output of up to 300W. Need to power a blender or desktop? Crank it up to 600W with X-Boost mode to run up to 99% of consumer electronics.
Lightweight at only 3.5 kg

With a compact portable design, taking travel-friendly power off-grid has never been this easy. With a light-weight that's 30% lighter than the previous generation, RIVER 2 is ready to power all your outdoorsy escapades, from camping to BBQs at the beach.
Ultra-fast home backup switchover

With a switchover speed of less than 30ms, you won't even know the power was down. Use RIVER 2 as an emergency power supply for overnight outages to keep essentials running from a CPAP machine to your fish tank.
EcoFlow App - Control at your fingertips

Use the EcoFlow app to control and monitor RIVER 2, even from afar. View charging levels, customize settings, and adjust charging speeds, all from the convenience of your phone.
What's in the box

1. RIVER 2
2. AC Charging Cable
3. Car Charging Cable
4. Quick Start Guide
5. 110W Solar Panel
6. Solar Charging Cable

*The solar charging cable is sent together with the solar panel.

RIVER 2 Specs
| | |
| --- | --- |
| Net Weight | |
| Charge Temperature | 0°C to 45°C |
| Capacity | 256Wh |
| Cycle Life | 80%+ capacity after 3000 cycles |
| AC Input Voltage | 220-240V 50Hz/60Hz, 360W Max |
| Car Input | 12V/24V, 8A, 100W Max |
| USB-A Output | 5V, 2.4A, 12W Max |
| USB-C Input / Output  | 5/9/12/15/20V, 3A, 60W Max |
| DC5521 Output (x2) | 13.6V DC, 3A Max, per port |
| Dimension * | |
| Discharge Temperature | -10°C to 45°C |
| Cell Chemistry | LFP |
| Solar Charge Input | 11-30V, 8A, 110W Max |
| AC Output  | Pure Sine Wave, 300W total (surge 600W), 230V 50Hz/60Hz |
| App Control | Wi-Fi, Bluetooth |
110W Portable Solar Panel Specs 

| | |
| --- | --- |
| Unfolded Dimensions | |
| Weight | 6 kg (Solar Panel 4 kg) |
| Rated Power | 110W (±5W) |
| Open Circuit Voltage | 21.8V (Vmp 18.4V) |
| Cell Type | Monocrystalline Silicon |
| Folded Dimensions | 42.0 × 48.0 × 2.5 cm |
| Warranty | 12 months |
| Efficiency | 22%–23% |
| Short Circuit Current | 6.5A (Imp 6.0A) |
| Operating & Storage Temperature | 6.5A (Imp 6.0A) |
Frequently Asked Questions
How do I get the most solar power?

Increase the efficiency of your solar panel by facing it directly at the sun without any obstructions. Remember to be careful when handling your solar panel because damaged cells provide less power.

Does it charge if it's inside?

Yes, if the only thing between it and the sun is transparent, but it won't charge as well compared to being outside. You can compare the difference by looking at the input section of your power station's LCD screen.