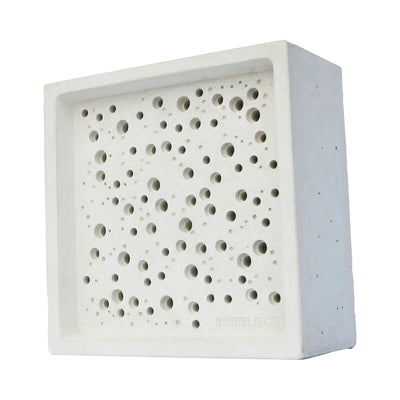 Green&Blue Bees Block in White
The Bees Block in white is a modern nesting site for solitary bees designed to look great in the garden
The Bee Block
The Bees Block is a stylish nesting site for solitary bees, designed to look stunning in the garden or to be used within the construction of walls, based on a half breeze block dimensions for easy incorporation.
The beautiful block makes a perfect addition to any garden or allotment and is a simple way to encourage natural pollination, making it a great gift for gardeners who love beautiful design. If you're looking for an unusual gift for Father's day this year then how about a beautiful bee house made from concrete that can be enjoyed for many years to come?
Each Bees Block contains cavities where the solitary bees lay their eggs. The bees then seal the entrance with mud or chewed vegetation, depending on species, and the offspring emerge the following spring to repeat the cycle. Because solitary bees aren't aggressive, having no honey or queen to protect, they are therefore safe to encourage around children and pets.
The Bees Block is designed and made by Green&Blue in the UK.
Materials

Made from cast concrete using up to 75% waste materials from the Cornish China Clay industry.
Dimensions
215mm x 215mm x 102.5mm
Weight
Approx 7 kg (unpackaged)
Positioning

The largest of the Bees Blocks should be positioned in a warm sunny spot, south facing, with no vegetation in front of the holes. Ideally placed at least 1 metre from the ground with no upward limit.