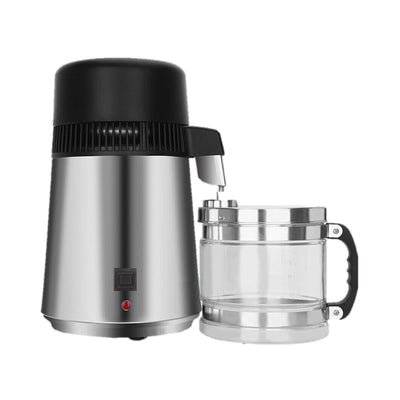 Countertop Home Water Distiller (4L)
The 4L countertop distiller has a stainless steel interior and exterior with an easy lift handle
4L domestic countertop home water distillation system comes with outer polished stainless steel body and glass container for distilled water collection. This water distiller produces contaminant - free water by heating water, converting it to vapour, the steam is then captured in a stainless steel coil where it cools to form pure water.
More Information

In Depth
Size: 45.5*29.5*27.5cm
Finish: Polished Stainless Steel
Material: 304 Stainless steel
220 - 240 VAC
750 Watt
Frequency 50 - 60 Hertz
Filter Parameter
E-coli, Chlorine, Sediments, Nitrates, Fluoride, Limescale, Dissolved Solids (TDS), Hormones, Pharmaceuticals, Heavy Metals
Warranty & Aftercare

This product comes with a warranty. Terms apply. Please see the downloadable manual for warranty terms.