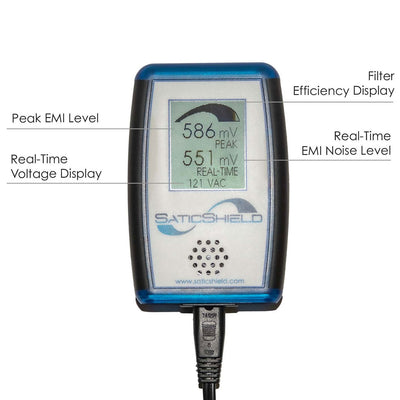 Satic EMI Line Monitor
The Satic EMI Line monitor measures electromagnetic interference, commonly referred to as 'dirty electricity' or 'DE'
You can test the levels of DE in your home or workplace by plugging the Satic EMI Line monitor into any electrical socket. The monitor will provide real-time visual and audio feedback.
The LCD display has a visual swoosh-shaped line diagram indicating peak interference. The audio feedback will provide 'line noise'. The louder the noise the higher the levels of DE on the line.

The interference is rated in millivolts (mV) as measured from peak-to-peak, ranging from 0-2999mV. The unit records peak mV while also displaying real-time mV. 
Acceptable levels of DE should not exceed 50 mV. 
If the EMI Line monitor display exceeds 50-100 mV you should think about filtering your electricity with a Satic Plug-in. 
One year limited warranty from date of purchase under normal use and service.