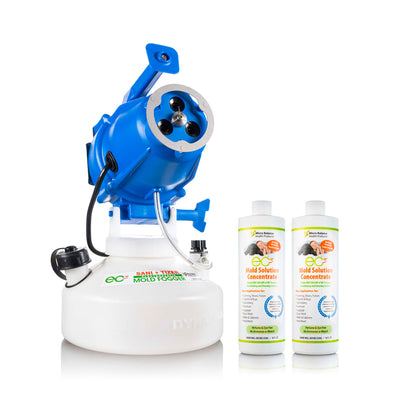 Micro Balance EC3 Electrostatic Sanitiser Fogger and Mould Solution Concentrate Bundle
The application of EC3 Mould Solution via fogging is a reliable method to temporarily sanitise and deodorise environmental areas, surfaces, and possessions
While not a replacement for professional mould remediation, fogging can temporarily provide a safe environment for those affected by mould and mycotoxins. Fogging is also beneficial for routine cleaning and maintenance for mould-sensitised individuals. Regular fogging can have a dramatic impact on indoor air quality and can keep mould levels lower.
The EC3 Electrostatic Sanitiser Fogger has the same 1 gallon tank capacity, 10-50-micron particle size, high-precision nozzles for greater output capacity, and high-performance blower for dispersing droplets of EC3 Mould Solution Concentrate more widely and effectively than competing products, as well as ADVANCED ELECTROSTATIC TECHNOLOGY.
Electrostatic technology provides a positive charge to the droplets as they spray from the machine. As a result, the droplets space more evenly on targeted surface areas for uniform coverage and stronger adhesion. Charged droplets wrap around the entire target surface which also eliminates puddling. This bundle includes two 16-ounce bottles of EC3 Mould Solution Concentrate, that makes 2 gallons of fogging solution when diluted per bottle directions.
Included in this kit:
1 x EC3 Electrostatic Sanitiser Fogger (110v)
2 x EC3 Mould Solution Concentrates (each bottle is 16 ounces and makes 1 gallon of fogging solution)
(Note: We do not recommend relying on the fogger to improve symptoms of severe mould toxicity. If you are sick and are still in the mouldy environment or are living with items from the mouldy environment, the volume of toxins you are breathing will usually exceed what fogging can eliminate. The best solution is to get into a safe place in which you KNOW you are improving without any items from the mouldy environment.)
EC3 Electrostatic Sanitiser Fogger Return & Refund Policy: All foggers are protected under a 1-year manufacturer's limited warranty. This warranty covers mechanical issues and defects. Due to health and safety regulations, all Foggers are a FINAL SALE item and are not returnable.
Directions for use
For Fogger: Fill fogger drum with EC3 Mould Solution Concentrate diluted per bottle instructions. Use the calibration dial to select the spray volume needed. Enter the room or space where the fogger will be used. Plug the fogger into an outlet. (We suggest using an extension cord to have more ability to move around a room or an object for best coverage.)
Turn the fogger on and disperse the mist in a steady up/down motion, so that it fully fills and covers a room, or so that it is evenly applied all over a surface or object. Hold the fogger steady with the handle to ensure a steady flow of EC3 through the machine. Turn off when finished. Drain and clean fogger after use.

Details
Weight: 14.00 LBS
Concentrate Size: 16 FL OZ. Concentrate
Concentrate Active Ingredients: Proprietary natural botanical blend of citrus seed extracts.
Concentrate Inactive Ingredients: Distilled water, Vegetable glycerin
IMPORTANT
Foggers are FINAL SALE and cannot be returned or exchanged. This is a healthy and safety regulation