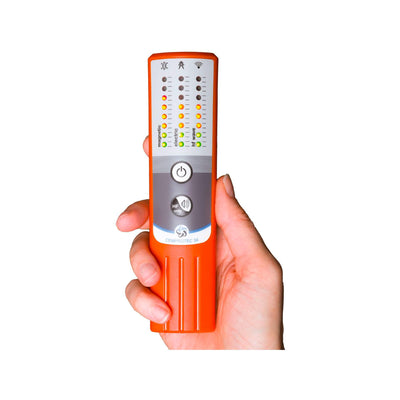 EPE Conseil CEMPROTEC 34 - 5G EMF Meter
The EPE Conseil CEMPROTEC 34 Electrosmog-detector is a new HF+LF 5G EMF meter with enhanced frequency range to 10 Ghz and great sound analysis
The EPE Conseil CEMPROTEC 34 provides an easy to understand EMF Meter. Numeric values are not displayed, the measurements are indicated with LEDs in colour bands corresponding to the standard of building biology.
During standard mode, the 3 types of fields (electric fields, magnetic fields, electromagnetic fields) are indicated with each 8 LEDs.
Whilst using the high-definition mode for high-frequency fields, all 24 LEDs will be available for a particularised display.
This is the successor of the popular ESI-series.
Frequency Range
Low-frequency electrical fields (LF) from 10 Hz to 5 kHz
Low-frequency magnetic fields (LF) from 10 Hz to 5 kHz
Electromagnetic fields (HF) from 1 MHz to 10 GHz
This 3D-measuring and visualisation of electric and magnetic fields was otherwise only available in very expensive devices.
Features
Operating modes: Standard mode, high resolution mode HF
Audio indicator: Sound analysis for easy detection of radiation sources
Power supply: 9 V battery
Weight: 90 g
Size: 178 x 50 x 33 mm
Scope of delivery: Detector, battery, short operating manuals