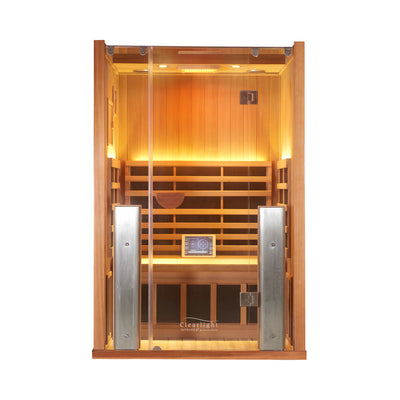 Clearlight Sanctuary 2 — Two Person Full Spectrum Sauna
Full Spectrum Far Infrared Canadian Cedarwood Cabin Sauna
The Clearlight Sanctuary 2 Sauna couples high quality manufacture, innovation and a distinct design aesthetic. This creates a luxurious, spacious and open feel.
Full spectrum FAR infrared heaters ensure this sauna offers therapeutic levels of all infrared wavelengths - near, mid and far. This will relax, heal and invigorate during your sauna session. These luxury Canadian Cedarwood cabin saunas made from eco-certified wood.
The Sanctuary range includes a state of the art digital sauna control which works in conjunction with a tablet/smartphone app to give you the ability to control your sauna remotely.
Features
Hybrid Carbon & Ceramic FAR infrared heaters + 

True Wave II Full Spectrum Infrared heaters

High output of healing FAR infrared wavelengths (± 9.4 microns)

360° heat to surround your core

Medical Grade Chromotherapy with 96 LED lights

Low EMF & ELF

Eco-certified grade "A" Canadian 

Cedarwood

100% non toxic materials

Easy to use Digital Control

Remote App to control using your phone or tablet

Connect to built in speakers with bluetooth or AUX

Easy in-home assembly

Lifetime Warranty

Capacity: 2 person
Technical Details
Specifications
Exterior Dimensions

132 x 122 x 196 cm

Interior Dimensions

119 x 112 x 188

 cm

Bench Dimensions

119 x 56 cm

Weight
204 kg
Power Source
The Sanctuary 2 plugs into any standard wall outlet.
Voltage
2

20 – 240V/50Hz, 2,250 Watts, 10 Amps

Heater Technology

True Wave Far Infrared + True Wave Full Spectrum Heaters

Chromotherapy

Medical Grade 

Chromotherapy with 96 LED lights

Mobile / Tablet App

iOS/Android app control

Capacity
2 Person
Additional Information
Wood Type

Eco-certified Canadian Cedar Wood

Cost to Run

Averages 48p per sauna session (30-60 minutes)

Useful Downloads
User Manual (1.2 MB)
Click to download

FAQ
What is Chromotherapy?
Chromotherapy is the science of using wavelengths of color light to affect your body and mind for improved health and wellbeing. Clearlight Premier Saunas include Standard Chromotherapy with 15 LED Lights. Clearlight Sanctuary Saunas include Medical Grade Chromotherapy lighting with 96 LED Lights.
How long does it take to assemble the sauna?
It takes 1 – 3 hours depending on which sauna model you have. The heaters are already attached to the walls, so you just need to slot the walls, floor and roof parts into place. The sauna is pre-wired so you will need to connect some cables and then it's ready to plug into a standard plug socket. You can download the assembly and user manual here.
What tools are needed?
For our Essential and Premier ranges you'll need a screwdriver to attached the doorknob, but that's it! For the Sanctuary saunas, you'll need an Allen key, which we provide.
How much electricity does it use?
Most people will have a sauna session for between 30 – 60 minutes which costs on average 38p per sauna session. These saunas are energy efficient to run.
How heavy is it?
The sauna weighs 204kg.
How safe are the saunas?
Infrared is very safe, it is used to keep newborn babies warm in hospital. The Clearlight saunas have been tested for low EMF and ELF so are very safe to use.
Whats the difference between the Premiere and Sanctuary Range?
The Clearlight Sanctuary is a luxury sauna which uses Full Spectrum Infrared (Near, Mid and Far), Canadian Cedarwood and Medical Grade Chromotherapy. The Clearlight Premier ranges uses Far Infrared heater technology, grade 'A' Cedarwood and standard Chromotherapy with 15 LED Lights.