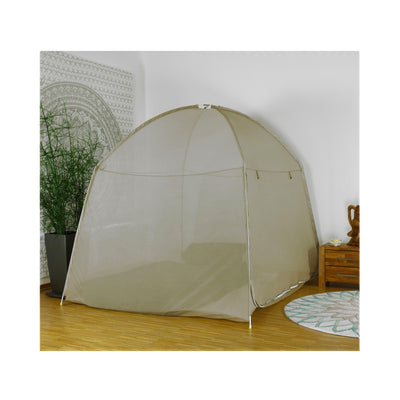 YSHIELD® BSTK | SAFECAVE EMF Shielding tent | King (175cm)
SAFECAVE EMF shielding tent from YSHIELD® providing high shielding attenuation for maximum portability - king (175cm)
The BSTK is the only SAFECAVE EMF shielded sleeping tent that is designed for two people. It is easy to assemble with only 2 long rods.
It is closed on all sides with silver fabric and zips for perfect shielding.
We recommend a mattress on the floor for sleeping.
The SAFECAVE provides a cost-effective means of shielding your sleeping area for your home or when travelling.
The tent can be entered through an opening at the side with a zipper.
Sewn with a high quality silver fabric with high transparency and air permeability. Unique in this price class is the high shielding attenuation of 42 dB.
The pop up tent is a hygiene product, a return or exchange is therefore not possible.
Single EMF shielding tent
Outer dimensions: Width 175 cm, depth 205 cm, height 170 cm (+/- 5% tolerance)
Inner dimensions: The inner dimensions are perfect for mattresses up to 160 cm width. Designed for two people.
Attenuation: 42 dB
Color: Silver-beige
Materials: 85 % nylon, 15 % silver
Included:Tent with suitable bars.
Attenuation | Grounding
This product shields high frequency electromagnetic fields (HF). The indicated dB-values apply to 1 GHz, view chart for other frequencies. Laboratory report ranging from 40/600 MHz to 40 GHz according to standards ASTM D4935-10 or IEEE Std 299-2006.
This product is a closed Faraday cage for non-stationary application, and not intended for grounding.
Care instructions
Gentle cycle at 30°C exclusively with our TEXCARE detergents
No ironing
No drying in tumble dryers
No bleaching
No chemical dry-cleaning
FAQ
How many people does it fit?
This EMF shielding tent is designed for two people.
How do I set it up?
The EMF shielded tent can be placed on top of a mattress or you can put a mattress up to 160cm inside the tent.
How do I test that it's working?
If you have an RF detector, then this is the perfect way to test the tent. The second-best way is simple – use it! Just get in and sleep in it. Give it three days for the body to adjust and feel the difference.
Can I return it?
The pop up tent is a hygiene product, a return or exchange is therefore not possible.
Can I Wash The Canopy?
Handwashing possible at 30°C exclusively with TEXCARE detergents.
Will my mobile phone work inside the tent? Can I use my mobile phone to test the frequencies?
Your mobile phone will work in an EMF tent however we strongly recommend you do not bring it into the tent. This is because when you bring a mobile phone into an EMF shielded space the mobile phone becomes an EMF repeater which intensifies the EMF frequencies inside the canopy. This is due to your mobile working harder to boost the signal so it can connect to make calls / texts / access the internet.
For this same reason, it isn't accurate or appropriate to test for EMF frequencies inside the canopy using a mobile phone.