Ecoflow Portable Power Stations
If you're looking for a UK portable power station, a great place to start is with an EcoFlow. With AC outlets to fit all your gear and a ton of ports, they're designed to keep you powered on no matter what. Replace your old-school generator with a solar powered one and get clean battery power.
What makes EcoFlow portable power stations different
EcoFlow's charging tech "X-Stream" is the fastest in the industry. Say goodbye to fuel tanks and charge up your battery power generator to 80% in as fast as an hour. EcoFlow portable power stations can be used indoors, outdoors or even on the move.
A clean, green battery machine
Besides being cleaner, easier to use and more reliable than an oily engine, portable power stations are more versatile too. Of course it goes without saying that they're renewable too, plug in a solar panel or two and you've got a solar generator. This year's answer to outdoor power equipment.
Ecoflow DELTA Series
The DELTA series ranges from 882Wh of energy to 3.6kWh. That makes them great for home power security during outages. With the large capacities, they are also the best portable power stations for camping and caravanning and off-grid use too. EcoFlow DELTA series have all the charging ports you need to run multiple devices
Shop Ecoflow DELTA series
Ecoflow RIVER Series
If you're thinking of picking up a portable power generator for camping, the RIVER series fits the bill. With standalone capacities ranging from 210Wh-720Wh, they're much more than just portable chargers. Expandable with extra batteries, they come sporting plenty of AC outlets for powering multiple devices at once.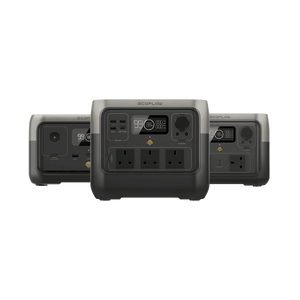 Shop Ecoflow RIVER Series