Blue Light Protection Brands
We've scanned the world for the most effective blue-light-blockers, and these are the brands that make them. Helping people to improve their focus and sleep quality while balancing out the impact of too much screen time, discover sleek, scientifically certified blue-light-blocking glasses for everyday wear.
Blue Light Protection Brands
BlockBlueLight
BlockBlueLight make premium blue and artificial light-blocking products. Following years of dedicated research and development, Daniel Ebbett and his team created a range of blue-blocking devices for different situations – whether night lights, torches, reading lamps or non-blue light-emitting light bulbs.
Ocushield
Ocushield products are created by Optometrists and are proven to filter out harmful blue light. Because of this, they've been registered as a class 1 medical device by the Medicines and Healthcare products Regulatory Agency (MHRA), an executive agency of the Department of Health and Social Care in the UK.
Swanwick
Swanwick blue light glasses also known as 'Swannies' are highly effective in blocking the blue-light from your laptops, screens and mobile phones that disrupt your natural sleep hormones. With day and night versions they are the perfect way to manage your blue light exposure and help balance your natural rhythms.
Free EMF Protection E-Book
Free E-Book: How To Protect Yourself From 5G, WiFi And EMF
Conscious Spaces show you how to protect yourself from 5G, Wifi and EMFs in an exclusive free e-book.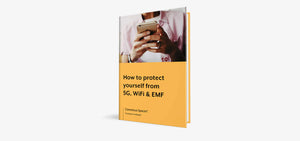 Conscious Spaces EMF Survey for your home or business
If you want a helping hand in understanding your meter readings and what steps you should take next, why not book in for a Conscious Spaces EMF Survey with a trained professional?