Your best-ever summer skin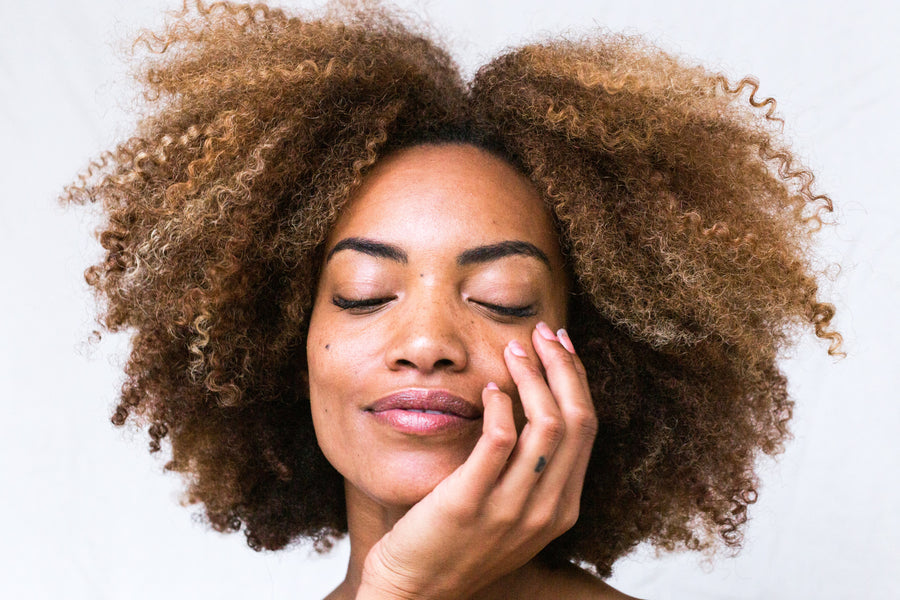 Whether by a pool or just the garden patio, bare skin is making its annual summer appearance. And with more time alfresco meaning extra exposure to environmental aggressors like UV rays and air pollution, it's vital to take good care of your body's biggest organ to keep it looking and feeling healthy.
From sculpting natural body oils scented with citrus to the best type of non-toxic mineral sunscreen, dive into our top tips, treatments and products to get your best-ever summer skin.
Swerve chemical sunscreens
There are two main types of sunscreen: chemical and mineral. The majority are chemical, which means they combine a potent combination of synthetic substances with tongue-twisting names, like avobenzone, octinoxate and homosalate. Many of these chemicals are endocrine disruptors – meaning they can mimic hormones and interfere with everything from your metabolism to your reproductive system.
Whatever we put on our skin is absorbed into our bloodstream, and these sunscreen chemicals have been detected in the blood above acceptable FDA levels, leading to concerns over their wider effects on wellbeing.[1]
Meanwhile, mineral sunscreens use zinc or titanium dioxide to block the sun's rays. If the bottle says it's 'broad spectrum', great. That means it's got both UVA and UVB covered. Even if the active ingredients are mineral, always check that the rest of the formula is clean, and not hiding any other toxins like parabens, phthalates or fragrance.
"Personally, I like zinc oxide, reef-safe, non-nano SPF, with no other component," says Conscious Spaces founder Tara Williams. "I believe this type of sunscreen is a safer choice."
"I use the zinc oxide SPF on my face, and the rest I generally cover up where possible. Or, if I need to, I use the same SPF on my body. But I do make sure I get enough sun on my skin, because in this hemisphere, if you don't, your body simply can't produce enough vitamin D to carry you into winter, which can lead to all sort of issues from depression to fatigue."
Even with some safe sun exposure, you "still need to top up with vitamin D-rich foods and a good supplement," says Tara.
Chill out
Hopefully, if you've used proper sun protection (see above!), your skin won't need too much special attention after a day in the rays. But for those occasions where you missed a bit, or if your skin's feeling agitated and dry, a natural after-sun will soothe burns, cool skin and help calm irritation.
Pai's Chamomile and Rosehip Calming Day Cream minimises the risk of irritation while reducing redness. It's also great for eczema and rosacea-prone skin.
For children (and adults too), we especially like Green People's Aloe Vera Lotion & After Sun. Ideal for sensitive skin, this cooling lotion with calendula, rosemary, organic aloe vera, myrrh and lavender, keeps skin smooth and soft and is suitable for both face and body.
Hot and bothered and no after-sun in the bathroom cupboard? Try making your own. Simply mix coconut oil (ideally cold-pressed extra virgin) with a drop of lavender essential oil, plus, if you have any, a little aloe vera gel, and apply. Plain, natural, probiotic yoghurt can also work wonders on sunburned skin (and makes a lovely softening face mask).
Hydrate from the inside
The golden rule for fresh, dewy summer skin? Water, water and more water. Make sure it's filtered too, to sift out any chemicals or toxins that could hamper your skin-enhancing efforts.
Try upping your intake of hydration-heavy fruit and veg while you're at it. Think juicy organic apples, melon, celery, cucumber and lettuce. Healthy fats, like those found in avocados, fatty fish, nuts and seeds, will help to support the skin barrier and keep skin plump and moisturised in the heat.
For an even bigger internal hydration boost, consider taking targeted nutritional supplements like collagen. Always choose an organic variety, and add it to smoothies and teas. "Although if you are going to try this," says Tara, "I wouldn't recommend long term supplementation of collagen. I would advise getting it from natural sources in foods. For example, you can easily make a collagen-rich bone broth using an organic chicken carcass."
Fake it
There's just something about sun-kissed skin that makes us feel good. Blemishes fade, sleepless nights go unnoticed and uneven texture seems to melt away. But there's no need to bake in the midday glare to achieve a just-back-from-holiday-glow. With natural beauty brands perfecting their self-tan products, it's easy to build healthy colour without a wrinkle or sun spot in sight.
We love adding Oskia Adaptive Tan Drops to our moisturiser for a beautifully natural glow that gently deepens over time. With vitamins A, B5, C and E, pea peptides and white tea, these drops are formulated with naturally-encapsulated DHA, super nutrients, anti-oxidants and a natural melanin complex. And there's no suspiciously biscuity self-tan smell either – just a refreshing jasmine and mint fragrance. Use at night to wake up to a natural glow.
Jump in an infrared sauna
There are few things more enjoyable than savouring the warmth of the sun on your skin. But UV rays can cause premature ageing, drying skin out and exacerbating wrinkles.
Regular use of infrared therapy (such as a session in an infrared sauna) has been clinically proven[2] to slow the development of wrinkles, boost collagen production and reduce the appearance of existing lines.
Sweating it out in an infrared sauna allows skin to breathe and detoxify, helping to clear out excess oil and sunscreen residue and keep breakouts at bay. Infrared therapy can also stimulate circulation, bringing more oxygen and nutrients to the skin's surface – all of which naturally helps to soften skin and lend a youthful rosy glow.
Studies using near-infrared light, alone and in combination with a suction-based massage device, show a reduction in cellulite on the skin's surface.[3][4] Combining exercise with near-infrared sauna therapy may also help shift stubborn body fat, leading to a more svelte summer silhouette.
At Conscious Spaces, we offer both near-infrared saunas and far infrared saunas. Start your infrared journey here today.
Firm up with a natural body oil
Sticky summer heat inevitably means showing some skin, so it's understandable to want the skin on show to be as firm, glowy and smooth as possible. That's where a good body oil comes in. Uber-moisturising and undeniably decadent, body oil leaves your skin more supple and radiant. Plus, if you choose an oil with specific toning ingredients, it can also help to smooth out cellulite and firm up skin texture.
Not just great for adding moisture, try using a multi-purpose natural body oil as a daily fragrance, adding it to your bath, or even to soften the ends of your hair.
As with many beauty products, conventional body oils can contain all sorts of artificial fragrances and toxic ingredients (from solvents to surfactants) – all of which are absorbed by the skin, potentially leading to irritation and triggering sensitivities.
Some of our favourite natural alternatives include:
Unbeatably uplifting, Dr. Hauschka's Lemon Lemongrass Vitalising Body Oil is imbued with the revitalising scent of sun-ripened lemons. Massage it into the skin to invigorate, tone and firm. Use fresh from the shower or bath to seal in moisture.
A potent extract of organic birch leaves (known for their purifying and detoxifying effects), apricot kernel oil, jojoba seed oil and vitamin-rich wheat germ oil, Weleda Birch Cellulite Oil is a dermatologically proven treatment that visibly nourishes and improves skin texture and smoothness after one month of twice-daily use. To target cellulite, massage it into damp skin using circular movements. Enhance circulation with a brush massage or cold shower and natural body scrub.
Formulated with a powerful blend of circulation-boosting ingredients, this 100% natural, nourishing oil helps tone and smooth the skin while reducing the appearance of cellulite. Gotu Kola – an Ayurvedic herb renowned for its circulatory benefits – is combined with stimulating Green Coffee bean oil and detoxifying sweet Birch and cleansing grapefruit essential oil for an invigorating experience. Apply by massaging into the skin using circular movements.
Both the Weleda and Fushi oils contain wheat germ, so be mindful if you have any intolerances or allergies to wheat.
'Eat' your SPF
Unfortunately, sun protection isn't quite as simple as eating your sunscreen – but you can choose to eat foods that will offer an added level of natural defence.
Free-radicals from the sun can cause oxidative stress and damage skin. To counteract these unwanted effects, try adding more antioxidants into your daily routine.
Antioxidants are compounds that can prevent or slow damage to cells caused by free-radicals. They're produced in your body, but, handily, they're also found in foods.
Berries (like goji berries, blueberries, raspberries, strawberries), red cabbage, carrots, dark chocolate, beetroot and spinach are all delicious examples of colourful foods that are naturally rich in antioxidants and could help protect your skin from sun damage. You can also take supplements – think vitamins C, E, A, Pcynogenol and Q10 – to up your antioxidant intake. Formulated with nutrients like grape seed extract and Astaxanthin, this SPF supplement by Viridian may also help to strengthen the skin against sun damage.
References
[1] https://jamanetwork.com/journals/jama/article-abstract/2733085
[2] https://www.ncbi.nlm.nih.gov/pmc/articles/PMC2687728/
[3] https://www.ncbi.nlm.nih.gov/pubmed/16537213