The Conscious Spaces Self-Care Checklist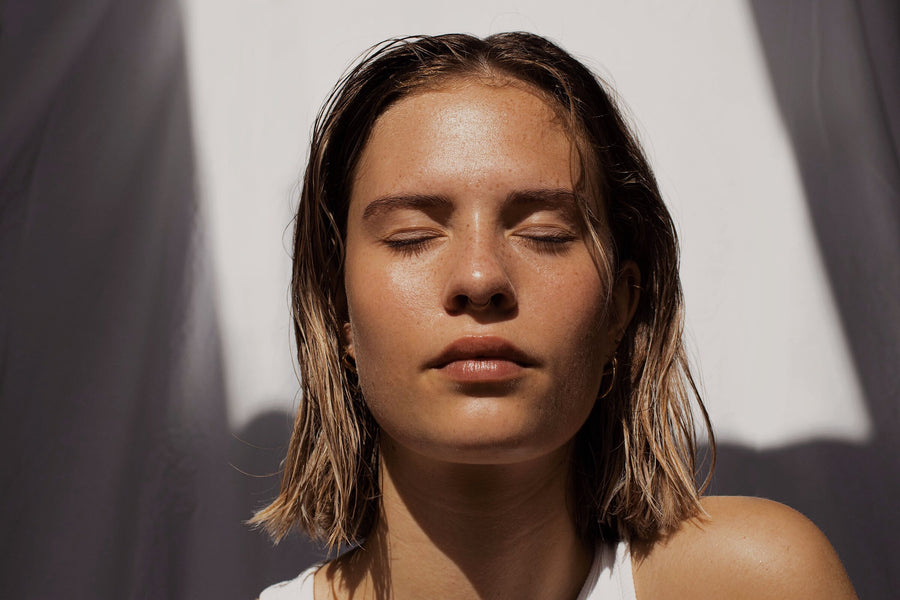 In a new year like no other, the January detox we might usually use to refresh and reset feels out of place.
The disorienting effect of the perpetual state of uncertainty we find ourselves in calls for a softer, kinder approach. Rather than resisting and abstaining, our hyper-stressed systems are crying out for remedies and rituals that reassure, nourish, and soothe.
Enter the Conscious Spaces Self-Care Checklist: filled with things to help you look after your body, nurture your spirit and enhance your living space. From the calming breathwork technique to top self-esteem-supporting tips, read on to discover ten comforting ideas to see you through to spring.
1. Make a comforting (Matcha) cuppa
Taking time for tea breaks allows you to savour a few precious moments of peace. Make the tea in your cup Matcha, and this everyday ritual could significantly reduce your stress levels, too.
Matcha is a vibrant green powder made from finely-milled Japanese tea leaves, and it is uniquely rich in an amino acid called L-theanine.
L-theanine is proven to reduce symptoms of stress[1] by increasing GABA, serotonin and dopamine – the brain chemicals responsible for regulating anxiety and cultivating a sense of contentment – meaning when you make a cup of Matcha, you're quite literally brewing a cup of calm.
Opt for organic Matcha to avoid the excessive amounts of pesticides used to grow non-organic varieties. We like Clearspring Organic Premium Matcha for its delicious flavour and potent, immunity-powering antioxidant content.
2. Learn something new to enhance your self-esteem
While you could be forgiven for wanting to curl up in a duvet-coated ball given the current state of affairs, putting yourself out there (virtually, at least) and learning something new has tangible benefits for mental health.
Acquiring new knowledge or skills reminds us that we are capable, helping to build our self-confidence. It focuses the mind, occupying our attention and distracting anxious thoughts. Research[2] backs this up, showing how further education can increase self-worth and fuel productivity.
With Open University's free short courses, you can spend one hour learning about neighbourhood nature, or take an eight-hour course covering an introduction to child psychology. Or, perhaps you're keen to lose yourself in galaxies, stars and planets. With no fixed start or end date, you can work through the courses at your leisure but still track your progress for a real sense of achievement.
3. Brighten your space with a natural scent
Scents made with natural, plant-based fragrances can help to purify the air and brighten a space.
For thousands of years, medicinal herbs, like white sage, have been used to clear negative energies, lift spirits and reduce stress. Spiritual wisdom suggests that the burning of sage (also known as 'smudging') makes room for optimism, wellbeing and success. Even the Latin word for sage, 'salvia', is derived from 'salvere', which means 'to heal'.
Not only spiritual in benefit, thanks to a 2007 study titled 'Medicinal smoke reduces airborne bacteria', we now know that the burning of medicinal herbs helps can also help clear aerial bacterial populations by 94% within one hour.
We love Raw Living's 'Sacred Sage Smokeless Mist'. With all the clarifying properties of sage but none of the smokiness, this handy spray is made with organic ingredients. Spritz it in any room for an immediately harmonising, soothing experience.
4. Try the calming Coherent Breathing technique
By taking deep, slow breaths at a rate of about five per minute, 'Coherent Breathing' stimulates the vagus nerve, naturally activating our inbuilt relaxation response and alleviating anxiety.
Like a biological phone line that runs from brainstem to colon, the vagus nerve is in charge of the 'fight or flight' stress reflex. When you massage the vagus nerve by significantly slowing your breath, you effectively switch this stress reflex off, lowering your blood pressure and heart rate, leaving you feeling centred and calm.
Coherent Breathing can be a wonderfully nourishing practice to include in your day-to-day – perhaps to welcome a new morning, after a stressful meeting or to help you drift off at night.
Here's how to do it:
Get comfy. Place one hand on your stomach to make sure you're breathing deeply and not from your chest. If you like, you can close your eyes.
Find a baseline by focusing on the natural rhythm of your breath.
Inhale for four seconds and then exhale for four seconds. Continue for one minute.
Repeat, but extend your inhales and exhales to five seconds.
Repeat again, this time extending from five seconds to six.
See if you can continue like this for five minutes, gradually building up over time to twenty minutes in total.
As you inhale, imagine healing energy filling your lungs and flowing throughout your body. As you exhale, let go of any negative thoughts, feelings or sensations, releasing their burden.
(As with all breathwork, you should only try this if you are medically fit and have no breathing or blood pressure issues.)
5. ...but ensure the air you're breathing is clean
The air we breathe in our homes can have a huge impact on our mental and physical wellbeing – with polluted air capable of damaging[3] every organ and virtually every cell in the body.
Indoors, wood burning stoves and fireplaces can release particulate matter: "the most worrying form of air pollution for human health."[4] Paint, furniture, varnishes, wallpaper, chemical air fresheners and cleaning products emit toxic Volatile Organic Compounds (VOCs). These invisible contaminants can swirl about a space, silently polluting the air you breathe whilst you sleep and work. Add damp and poor ventilation into the mix, and you've got a serious threat to wellbeing.
Improved air quality consistently correlates with better health and increased productivity. Research shows[5] our ability to solve problems, plan and learn improves by 61% when a building has reduced VOCs and carbon dioxide.
To get cleaner air flowing through your home, try opening windows at opposite ends of your house to allow the most effective air exchange and encourage unwelcome pollutants to make their exit.
For further peace of mind, invest in an air filter. A key piece of the Conscious Spaces kit, the Hextio air filter provides a one-stop solution to air quality issues. Tackling ultra-fine particle pollution, viruses, VOCs, mould, allergens, bacteria and toxic gases the Hextio brings the world's most advanced air technology straight to your home. Shop it here.
6. Use music to maintain mental calm
Eleven minutes of music are all it takes to improve your emotional wellbeing.
A global study[6] by the British Academy of Sound Therapy (BAST) revealed how songs can be used as 'sonic vitamins' to regulate and improve mood throughout the day – playing "just as important a role as a morning coffee or glass of wine in the evening."
Building on existing research that shows music can significantly reduce cortisol and adrenaline, BAST's study found that 90.15% of participants used music to relax. Reported therapeutic effects included reduced muscle tension (79.20%), negative thoughts disappearing (84.31%), feeling peaceful and content (91.69%) and better sleep (82.30%).
In another study, researchers revealed[7] that playing the 'world's most relaxing song' before surgery could be just as beneficial for calming a patient's nerves as taking a sedative. 'Weightless', a song filled with dreamy soundscapes and mellow melodies, was written by Marconi Union specifically to reduce anxiety, blood pressure and heart rate. Whether for pre-surgery-soothing or just another day of home-schooling, we say it's worth a shot.
"Lee Harris' album of healing music, 'Awaken', is also super interesting," says Tara. "Tuned to the frequency of 528Hz – AKA 'the miracle note' – Harris' music is made to sooth heavy hearts and weary souls."
So, go on, hit play on your favourite feel-good playlist and let the music work its magic.
7. Support with supplements
For Tara, founder of Conscious Spaces and a qualified Nutritional Therapist, taking targeted micronutrients is an easy way to strengthen your body's natural defences against viruses:
"The key supplements I would recommend right now for optimum immunity and general wellbeing are vitamin C, zinc, vitamin D – interchangeably taken alongside vitamin K2 – and quercetin," she says.
"Vitamin C is a well-known powerful antioxidant, while zinc helps your body make new cells and enzymes. With everyone stuck inside so much recently, it's more vital than ever to supplement with vitamin D to make up for the chronic lack of sunlight. Evidence suggests that combining vitamin D and vitamin K may be more effective for bone and cardiovascular health than taking them separately. And finally, try quercetin, a plant flavonoid with significant anti-inflammatory, antihistaminic and anti-viral benefits."
8. Shield against increasing electromagnetic radiation
Smart meters. 5G masts. AI speakers. With the global rollout of new networks and ever-more invasive smart technology infiltrating our homes, being aware of and protecting yourself from the effects of rising electromagnetic frequencies (EMFs) has never been more important.
Maybe you already turn your Wi-Fi router off at night, but there's so much more you can do to stay safe, happy and healthy.
To discover the answers to your EMF FAQs and see what the scientific research says, have a read of our EMF intro article, 'What Are EMFs and How do they Impact our Health?'.
Once you know what you're dealing with, you can start to think about simple ways to mitigate the effects of exposure.
Keen to take your protection to the next level? Look into specially designed EMF protection devices and shielding options for ultimate peace of mind – all available in the Conscious Spaces shop.
9. Perk up tired skin with a nourishing natural balm
Made using an all-natural base of nourishing olive and shea oils and bound together with natural beeswax and grapefruit essential oil, Olio E Osso multi-purpose balms are made by hand and deliver beautifully soothing hydration to the face and lips. Perfect for pepping up tired skin for last-minute Zoom calls, the tinted balms offer a flattering-to-all-skin-types sheer wash of colour.
Tara is a fan: "I love the Olio E Osso tinted balms for a little pick-me-up. They give a your-lips-but-better colour that gives your whole face a lift, plus they're made with super-simple, all-natural ingredients."
10. Get creative and feel content
With channels of expression frustratingly limited, there remains one life-affirming activity that anyone can access: making art.
Creating art isn't about skill or wealth, but finding solace or expressing a feeling so that others might share in it. It's a way of expanding your world without leaving your living room, escaping negative thoughts and noticing things more intensely – making it a mindful pursuit. As research shows, it even lifts your spirits. A study[8] by the Journal of Positive Psychology found that people who take on new creative projects report feeling happier in their everyday lives.
Born out of lockdown, celebrated British artist Grayson Perry's virtual Art Club gives an easy framework for getting your creative juices flowing. Each week, Grayson encourages entries under a different theme (family, nature, food, dreams, work, travel), with highlights shown on the accompanying Channel 4 TV series and selected for an Art Club gallery exhibition. Any media will do, from sculpture to photography, line drawing to embroidery. Visit www.graysonsartclub.com to find out more and submit your artwork.
References:
[1] https://www.ncbi.nlm.nih.gov/pmc/articles/PMC6213777/
[2] https://londoneconomics.co.uk/blog/sector/further-education/page/2/
[3] https://journal.chestnet.org/article/S0012-3692(18)32723-5/fulltext
[4] https://www.theguardian.com/environment/2021/jan/01/avoid-using-wood-burning-stoves-if-possible-warn-health-experts
[5] https://ehp.niehs.nih.gov/doi/pdf/10.1289/ehp.1510037
[6] https://www.britishacademyofsoundtherapy.com/wp-content/uploads/2019/12/Deezer-Health-and-Wellbeing-research-short-.pdf
[7] https://www.independent.co.uk/arts-entertainment/music/news/relaxing-song-best-weightless-marconi-union-youtube-surgery-anxiety-a9011971.html
[8] https://www.researchgate.net/publication/310764211_Everyday_creative_activity_as_a_path_to_flourishing