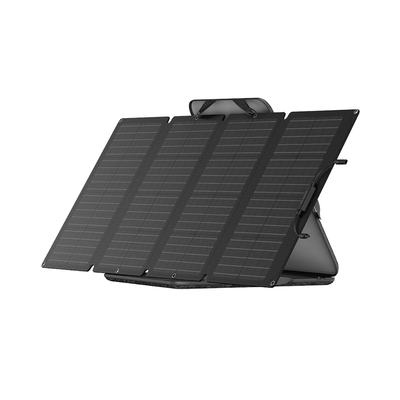 EcoFlow 160W Solar Panel
Designed to produce maximum power at any time of the day
EcoFlow 160W Solar Panel Highlights
Portable & Foldable The EcoFlow 160W Solar Panel is portable, foldable, and compact, weighing just 15.4lbs / 7kg. From camping to outdoor activities, unfold the solar panel and start capturing solar power in seconds.
Intelligent Solar Power The EcoFlow 160W Solar Panel is designed to produce maximum power at any time of the day when paired with an EcoFlow power station. The solar panel has a high conversion efficiency of 21-22%, and the EcoFlow MPPT power station algorithm delivers improved performance in cold and cloudy environments within the operation range.
Durable, Dust & Water Resistant The EcoFlow 160W Solar Panel has IP68 rated dust and water resistance, which is thanks to a seamless, one-piece design, making it ideal for outdoor activities like camping and hiking. An ETFE film provides extra protection against ultraviolet light, prolonging the lifespan of the product.
Kickstand Case Provides protection for the solar panel during transportation. The carrying case also doubles up as a kickstand, which enables you to position the solar power in any direction or orientation, allowing multiple solar panels to be connected together without any obstructions.
Be in charge wherever you are. The EcoFlow 160W Solar Panel delivers ample and green power on the go.
Universal
Seamless
Foldable
Lightweight
Portable & Self-supportable
Carry this 7kg panel in a case that doubles as a stand, giving you the best angle for solar charging.
So Much More Sun
Premium monocrystalline silicon cells provide a high conversion efficiency of 21-22%. Recharge even faster by chaining multiple panels in a series or in parallel.
Built to weather the storm
Our 160W portable solar panel can carry on collecting energy even during a downpour. With a protective ETFE film and a high IP resistance level of 68, the solar cells can withstand environments from humid and wet to dry and dusty.
What's in the box
1. 160W Solar Panel 2. 160W Solar Panel Bag 3. Solar to XT60 Charging Cable 4. 160W Solar Panel User Manual
Specs 

| | |
| --- | --- |
| Unfolded Dimensions | 157 x 68 x 2.4 cm |
| Weight | 5.6 kg |
| Rated Power | 160W(±5W) |
| Open Circuit Voltage | 21.4V (Vmp 18.2V) |
| Cell Type | Monocrystalline Silicon |
| Folded Dimensions | 42 x 68 x 2.4 cm |
| Warranty | 12 months |
| Efficiency | 21%–22% |
| Short Circuit Current | 9.6A (Imp 8.8A) |
| Operating & Storage Temperature | −20°C to 85°C |


Frequently Asked Questions 
How do I get the most solar power?

Increase the efficiency of your solar panel by facing it directly at the sun without any obstructions. Remember to be careful when handling your solar panel because damaged cells provide less power.

Does it charge if it's inside?
Yes, if the only thing between it and the sun is transparent, but it won't charge as well compared to being outside. You can compare the difference by looking at the input section of your power station's LCD screen.