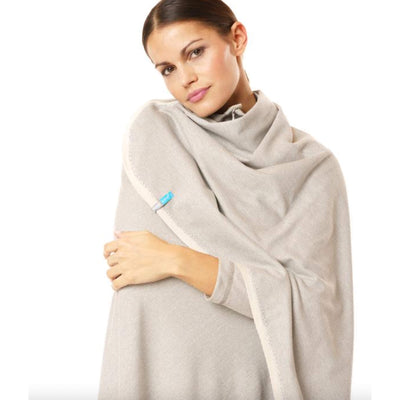 Silver25® 5G EMF Radiation protection blanket
Silverwave EMF 5G and electromagnetic radiation protective blanket 1.30m x 2.20m single or double layer in grey or black cotton
Shields you from electromagnetic radiation – and feels soft against the skin
Electromagnetic radiation is given off by wireless technology like mobile phones and Wi-Fi routers. We can't see, touch or hear it, and yet it surrounds us.
Electromagnetic frequencies (EMFs) can penetrate deep into our bodies, with research suggesting repeated exposure can harm health.
Crafted from velvety-soft cotton with a protective silver coating, this blanket offers proven shielding from electromagnetic radiation – and feels ultra-comfortable against the skin.
Antibacterial effect
The material of the radiation protection blanket is composed of a percentage of silver, which does not only influence health but also has an antibacterial effect.
In addition, the silver coated blanket consists of a conductive surface which, when in contact with the body, reduces the chances of low-frequency fields to produce a coupling effect. They are discharged so that the body is not exposed to harmful stress.
How does it protect against electromagnetic radiation?
The cotton of this blanket contains 25% silver-coated fibres. These silver-coated fibres create a conductive surface that discharges harmful electromagnetic frequencies when in contact with the body.
People sensitive to electromagnetic rays should experience a greater sense of wellbeing and reassurance when wearing this protective blanket.
Silver also brings natural antibacterial benefits.
What is the EMF shielding capability of this garment?
EMF protective garments can achieve a screening efficiency of up to 20 dB.
Material
75% cotton (Oekotex Standard 100)
25% silver-coated fibres (silver-coated polyamide core)
Colour
Thickness
Single layer
Double Layer
Sizing
1.30m x 2.20m
EMF Shielding Report
View EMF Shielding Report from Prof. Peter Pauli of the Munich German Armed Forces (Bundeswehr) University