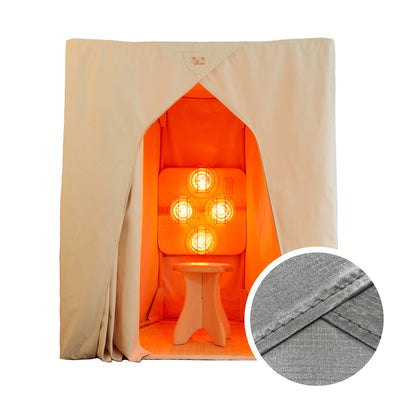 SaunaSpace® Faraday Sauna - 5G / EMF Shielded Portable Near Infrared Sauna
The SaunaSpace Faraday Sauna is the world's 1st 5G-rated RF shielding Faraday Sauna
Demand has increased fulfilment time on these handcrafted goods and the waiting time to delivery is currently 3 weeks.

NOTE: The Faraday Sauna is the same design as the Luminati Sauna but uses the custom designed EMF Shielding & grounding fabric.
SaunaSpace's new Faraday™ Shielding System features new custom-made hypoallergenic stainless steel EMF shielding & grounding fabric. It's 3rd-party lab-tested to deliver up to 69x better EMF protection performance than other leading fabrics at frequencies all the way up to 40 GHz. This includes 5G protection.
The incandescent sauna works by heating the body radiantly, from within using 4x 250W Low-EMF Incandescent Near Infrared (NIR-A) Bulbs for the ultimate natural thermal light therapy.
SaunaSpace incandescent heat lamps don't produce as much ambient heat as a far-infrared emitter. The Faraday Sauna doesn't get as hot as a far-infrared or traditional steam sauna. This is because it doesn't have to. The benefits of sauna therapy don't come from raising the temperature of the air. They come from raising the core temperature of the body.
Near infrared wavelengths deliver radiant, penetrating tissue heating and heat our bodies up more efficiently than far infrared wavelengths, which exhibit shallower penetration into tissue and deliver less effective conductive surface-heating.
The SaunaSpace Faraday Sauna incorporates the most non-toxic, non-treated natural materials so you're protected from toxic chemical & offgassing. Hand made with timeless craftsmanship ensures every piece of your product is perfect and will last you a lifetime.
The trapezoidal footprint is the perfect combination of space-saving and roomy interior. It is portable, light-weight, can be setup in minutes and can be installed in any indoor location.
SaunaSpace are so confident in their products that they offer a 100 day risk-free trial.
The Science - Health Benefits
Natural Full-Spectrum Thermal Light and Heat unite in a SaunaSpace sauna to stimulate the body's cells and tissues to restore themselves as nature designed. Together they penetrate each and every tissue and organ to activate mitochondrial cell regeneration, anti-aging, and detoxification.
Some of the scientifically observed effects of Red/Near Infrared (600-1000nm) Light activation of cellular mitochondrial functions and Cellular Heat Shock:
Increased longevity and decreased risk of cardiovascular disease
Reduced inflammation, assisting pain relief and improved skin
Repaired and re-optimized epigenetics and gene expression, and energy
Improved athletic and mental endurance, functioning, and strength
Increased collagen production, reducing cellulite, minimizing wrinkles, skin rejuvenation
Reduced stress levels in the mind and body, supporting better sleep and mood
Accelerated wound and tissue repair
Features
SaunaSpace red-filtered incandescent light providing the full-spectrum of healing and detox wavelengths
Therapeutic grade near infrared mitochondrial stimulation
Up to 92 mW/cm2 irradiance on your entire body
No UV or blue light / No flicker stress / Zero EMF stress
Intelligent design and unparalleled quality for the most safe and transformative healing you'll ever experience
5G-rated RF shielding system (Faraday Model)

100% non toxic materials

Hand made in the USA

Wheelchair accessible

Tool-free assembly
Convenient travel bags

Lifetime Warranty

Capacity: 1 person

100 day risk free trial
Organic Cotton Colours
The SaunaSpace Luminati Sauna is made out of 100% GOTS certified Organic Cotton Canvas and is available in the following colours:
Natural (as shown in the product shots)

Indigo

Dark Chocolate

Stone

Hand-Dyed Turmeric
Please refer to the colour swatch images.
Hypoallergenic, clean & safe
NATURAL CANVAS, CLEAN, HYPOALLERGENIC
USA-grown 100% GOTS certified Organic Cotton canvas is the ultimate hypoallergenic enclosure material: 100% chemical free. The cotton yarn is washed and cleaned with only hot water, yet durably machine-washable.
BAMBOO UNVARNISHED SLATTING
The Grounding Floor Mat's bamboo top is unvarnished and untreated, like everything else for a natural beachy vibe.
STAINLESS STEEL SHIELDING & GROUNDING FABRIC
SaunaSpace custom-made 5G-frequency blocking shielding material has no nickel or aluminum and won't tarnish as silver-based materials.
STAINLESS STEEL NON-OFFGASSING, SAFE HARDWARE
USA-manufactured Stainless Steel Faraday Guards and Hardware are not powder-coated or treated.
SOLID BASSWOOD HYPOALLERGENIC STOOL
Select-grade, sustainably harvested North American Basswood is zero-VOC rated and not treated with any chemicals or oils. So it won't outgas.
5G material shielding performance
As the global march toward more wireless technology advances, we need better RF shielding performance. 5G cellular technology is rolling out in 2019, which means higher strength 4G/LTE RF signals and also newly introduced high frequency bands beyond the typical LTE 800 MHz to 2 GHz.
SaunaSpace's new Faraday™ Shielding System features custom-made hypoallergenic stainless steel shielding & grounding fabric. It's 3rd-party lab-tested to deliver up to 69x better performance vs the previous generation product at frequencies all the way up to 40 GHz.
Technical Details
Specifications
Entrance Width
132 cm
Rear Width
61 cm
Depth
132 cm
Height
160 cm
Weight
30.1 kg
Power Source
The SaunaSpace Faraday Sauna plugs into any standard wall outlet.
Voltage
240V/50-60Hz, 1,000 Watts, 4.2 Amps
Heater Technology

Custom designed full-spectrum red-filtered incandescent light

Additional Information
Wood Type

Select-grade, sustainably harvested North American Basswood

Cost to Run

Averages 10p per sauna session (30-60 minutes)

Useful Downloads
User Manual
Click to download

FAQ
How long does it take to assemble the sauna?
It takes around 1hr using the very detailed operating manual which has pictures showing every step of the way. This makes it really simple.
Where can I install the sauna?
The Sauna can be installed in any indoor location protected from outdoor elements.
It can be installed on any indoor flooring: wood, laminate, tile, synthetic. The heat generated by the sauna does not heat up the surroundings to any significant degree. The Enclosure's Dual-Layer Cover & Floor Mat ensures all external home materials cannot be heated and therefore will not outgas into your SaunaSpace.
What tools are needed?
You don't need any tools. It comes with everything you need.
How much electricity does it use?
Most people will have a sauna session for between 30 – 60 minutes which costs on average 10p per sauna session. These saunas are energy efficient to run.
How heavy is it?
The sauna weighs 25kg and is very portable.
How safe are the saunas?
Infrared is very safe, it is used to keep newborn babies warm in hospital.
Whats the difference between the Faraday and Luminati Range?
The Faraday and Luminati saunas are the same design and construction apart from the material used on the Faraday model being the 5G-rated RF shielding system. This is a significant upgrade if you are looking for the optimal sanctuary environment.
How far away should I position myself from the ThermaLight bulbs in my sauna?
We recommended positioning yourself 12-24 inches away from the ThermaLight bulbs in your sauna. Most customers find 15 inches the optimal length from the bulbs.
Should I wear protective glasses when I'm using my SaunaSpace® sauna?
You can either close your eyes or keep your eyes open and gaze around the bulbs, but not directly at them. For instance, you could position the SaunaSpace® Photon on the left side of your face and then position it to the right side of your face. When positioning the SaunaSpace® Photon towards your head or face we recommend limiting sessions to under 15 minutes at a time. You can perform up to 10 sessions a day. The best rule of thumb is to make sure you have a 1 hour break (minimum) in between sessions. If you would like to cover your eyes, fabric will block Near Infrared light so you could wear an eye sleep mask, handkerchief or piece of cloth over your eyes to block the light.
Do you offer a trial period for SaunaSpace® products?
We offer a 100 day trial for the SaunaSpace® Photon, Tungsten, Luminati and Faraday.
If you were to request a refund during the 100 day trial period, you would need to return the item in the original packaging in the same condition that you received it. Any damage to the product or packaging would be deducted from the refund. Claims for items missing or damaged in transit must be notified within five business days of receipt of product. You are responsible for the return shipping costs. You can see our Refund Policy here.

Do SaunaSpace® Saunas emit Far Infrared as well as Near Infrared Sauna?
SaunaSpace® saunas provide incandescent, natural, full-spectrum light that is primarily Near Infrared, but they also emit Far Infrared. Here's the breakdown:
As shown in the graph above the SaunaSpace® emits both Near Infrared and some Far Infrared.
Water-absorbing Near Infrared radiant heat (1000-1500nm) warms the tissues far more efficiently than Far Infrared - and it does so at a lower, more comfortable air temperature.
It is worth noting that there is no Mitochondrial PBM with Far Infrared light, and in terms of EMF mitigation there are no zero or very low EMF Far Infrared sauna product options on the market at present. SaunaSpace® saunas aim for zero electromagnetic radiation. The SaunaSpace® Faraday Sauna is the world's 1st 5G-rated RF shielding Faraday Sauna.