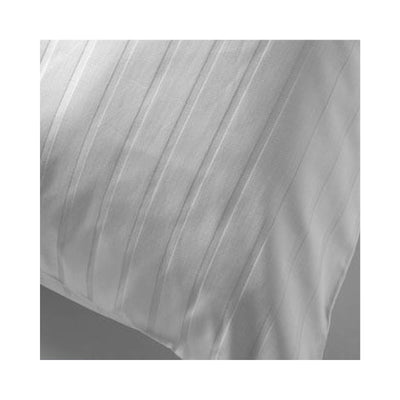 FouFurnishings | Hotel Organic Cotton | Pillow Case with Satin Stripe
The Hotel bedding collection satin stripe pillow cases are luxurious and durable made from luxury Fairtrade and organic cotton
The Finest Fairtrade Pillow Case
Our satin stripe oxford pillow case in luxury organic cotton was especially created to supply the luxurious, durable and consistent quality and makeup required in hotel bed linens, with the highest standards of ethical and sustainable sourcing.
The superb comfort, softness and zero toxicity levels of organic linens enhance your well being and that of your guests, as well as attracting an increasing number seeking out green places to stay. High quality organic linens last through laundering and do not require to be replaced as frequently, thus reducing long run costs. The cotton in our organic linens comes only from mature, top quality bolls and is hand-picked to avoid compacting the soil. Our organic hotel linens have been supplied, tried and tested in eco and green hotels, self catering properties, B&Bs and eco-lodges from Iceland to the Isle of Islay. Why not try a sample of organic hotel linens from fou furnishings for your green hospitality project.
This "Oxford" pillowcase has a 5cm border on three sides. We also have a "household" option, which is plain with no border.
Specifications
Size: Single to Super King
Brand: Fou Furnishings
Colour: White
Fabric: Organic Cotton Sateen
Made in: India
SKU: GA40205
Technical
250 TC organic cotton sateen, mercerized 140 G/M2. Tested in commercial laundries for shrinkage and less than +/-5%. Linens supplied to pre wash measurements to ensure a perfect fit, post laundry.
Certifications