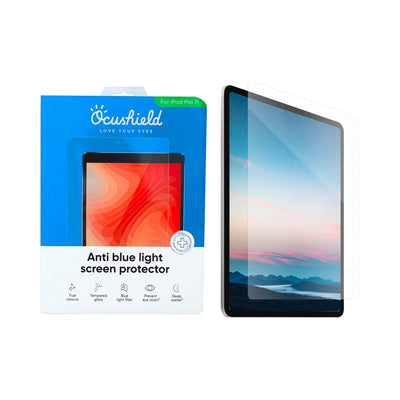 Anti blue light screen protector for iPad
Anti blue light screen protector for iPad
With no retro orange tinge, a crystal clear picture, accredited Class 1 Medical Device by the MHRA & to Improve sleep and protect your eyes.
Improve sleep, protect eyes and skin from harmful blue light

No retro orange tinge, a crystal clear picture
Super-strong tempered glass to protect your screens

Applicator included, no more worrying about bubbles

£1 donated to

Moorfields Eye Charity

per order
Designed & developed by Optometrists

in the UK
Accredited Class 1 Medical Device by the MHRA
Why not just turn on the built-in blue light filter?
iPads have gone from being a luxury to a necessity. From working to catching up on social media, this handy device can do it all.
If you own an iPad you will more than likely know about the built-in blue light filter.
In fact, iPads and iPhones both feature what is called "Night Shift," which changes the colour temperature of your screen, making it much less stimulating.
This is great to reduce and neutralise blue light, so you are not being exposed to the harmful rays that promote the adverse side effects (damaging your retinas and disrupting your sleep and wake cycle). Although, your screen will now appear with an ugly orange glow.
Too much orange?
This feature may work well at night or when you're planning to unwind, but it's not practical during the day if you're doing colour sensitive work or need more light. Unless orange is your favourite colour, you're likely to keep Night Shift off until the evening, keeping yourself exposed to blue light throughout the day.
Having it turned on ultimately diminishes your screen quality. When you use the built in options you have to make a tradeoff…
Enter Ocushield and the Anti-blue Light Screen Protector, now you never have to choose between screen quality and blue light ray shielding ever again.
The Ocushield blue light filter - the best screen protector for the iPads
Designed by Optometrists in the UK, Ocushield is home to the only medically rated anti blue light screen protector on the market.
It allows you to get the most out of your iPad day and night, without worrying about blue light rays damaging your health. With eyes being one of the most sensitive parts of the body, it's important to keep those peepers protected.
With Ocushield, you can do just that without turning your screen orange! All you have to do is fit the filter over the screen of your iPad Pro, Air or Mini and you are ready to go.