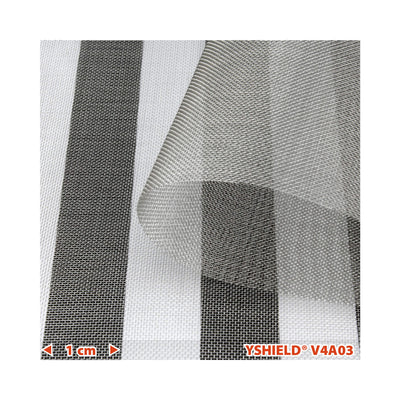 YSHIELD® V4A03 | Stainless Steel Mesh | Width 90 cm | Length 1m
YSHIELD® V4A03 corrosion-resistant EMF shielding stainless steel mesh provides shielding for drywall constructions with an EMF shielding of 55 dB
NOTE: This EMF shielding mesh is 90cm wide and is sold in units of 1m lengths.
Why use YSHIELD® V4A03 EMF Shielding stainless steel mesh ?
YSHIELD® V4A03 is an extremely fine woven, noncorrosive stainless-steel gauze for the protection against high-frequency radiation (HF) and low-frequency electric fields (LF).
V4A (AISI 316) is resistant against water, water vapor, air humidity, mild acids and in coastal areas against salty seawater!
What is YSHIELD® V4A03 EMF Shielding mesh used for?
Typical application due to the thin filaments is as a flyscreen, in roof areas, drywall constructions or loosely laid, etc.
How do you apply YSHIELD® V4A03 EMF Shielding mesh?
A typical application is identical to that of a regular flyscreen in commercial tenter frames.
When used in under the floor covering (laminate, parquet, PVC coating, etc.) V4A03 can be fixed with the adhesive used for the floor covering.
For drywall construction and in roof area the mesh elements can be bolt or stapled together.
The rule is: Always overlap the single elements at least 5 cm.
For grounding use the perforated stainless steel tape GSS10 by screwing it right across the elements into the surface.
YSHIELD® V4A03 EMF Shielding Mesh Graph
V4A03 EMF Shielding Mesh Attenuation | Grounding
This product shields high frequency electromagnetic fields (HF). The indicated dB-values apply to 1 GHz, view chart for other frequencies. Laboratory report ranging from 40/600 MHz to 40 GHz according to standards ASTM D4935-10 or IEEE Std 299-2006.
This product with an electrically conductive surface shields low-frequency alternating electric fields (LF). For this purpose a grounding is necessary.
Technical data
Width: 90 cm
Length: Sold by the meter (m)
Use: Interior and exterior use
Attenuation: 55 dB
Mesh Width: 0.3 mm
Wire diameter: 0.08 mm
Material thickness: 0.16 mm

Open area: 54%
Weight: 200 g/m²

Color: Silver
Fire-proof material, A1 according DIN 4102:1994.
Surface conductivity: 0.03 Ohm (square resistance)