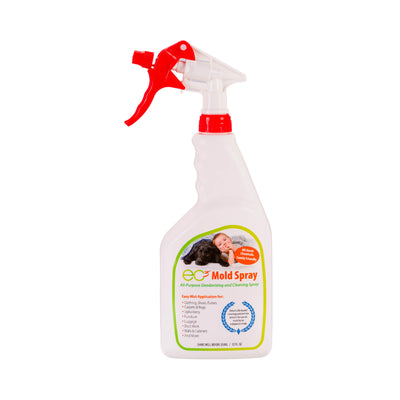 Micro Balance EC3 Mould Solution Spray
The Micro Balance EC3 Mould Solution Spray is made of natural botanical ingredients that treat indoor environments for mould and mycotoxins
Highly effective and ready-to-use, EC3 Mould Solution Spray is safe for all materials, surfaces and fabrics

This product is safe for all materials and designed to treat mould and bacterial contamination on all of your hard and soft surfaces including, floors, walls, furnishings, clothes, shoes, car interiors, and even pets.
The spray works on contact and thus, can only treat the areas where applied. It works best when used frequently to maintain healthy mould levels and to prevent a general build-up of mould in your home, office or car.
EC3 Mould Solution Spray is a vital part of the Environmental Treatment Protocol developed by Dr. Don Dennis, MD FACS, for sufferers of chronic sinusitis or other mould-related diseases.
EC3 Mould Solution Spray and EC3 Air Purification Candles are designed to work together to clean your home, office, or car.
To treat discoloured grout or tile, it is recommended to use EC3 Mould Solution Spray with some form of scrubbing or high-pressure spray or steam for best results.
NOTE: Since Micro Balance products do not spoil like a food item, they list the Manufacture Date on the bottles, instead of an Expiration Date.
Micro Balance products are made of natural ingredients which include citrus seed extracts and oils. As with any natural product, colour may vary and settling/separation may occur. Please shake well before use.
Product Specifications
Product Size: 32 FL OZ (946 ml)
Concentrate Active Ingredients: Proprietary natural botanical blend of citrus seed extracts
Inactive Ingredients: Distilled water, Vegetable glycerin
Micro Balance Range SDS Certificate