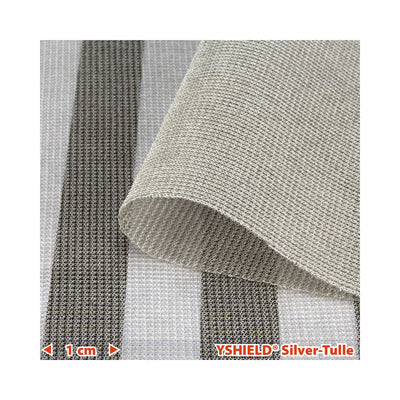 YSHIELD® SILVER-TULLE | EMF Shielding Fabric | Width 130 cm | Length 1m
YSHIELD® SILVER-TULLE EMF Shielding fabric is a semitransparent fully silvered nylon mesh that is designed to shield against 5G/Wifi/EMFS
NOTE: This EMF shielding fabric is 130cm wide and is sold in units of 1m lengths.
Why YSHIELD® SILVER-TULLE EMF Shielding Fabric?
YSHIELD® SILVER-TULLE EMF shielding fabric provides 5G protection.
It also blocks Wifi networks, digital TV, DECT, Wi-Max, 3G, 4G and other wireless applications.
With the benefit of having antibacterial properties this linen-style fabric is a firm favourite for use all around the home. The soft cream tone compliments soft furnishings making it close to hand for that extra layer of protection as you recline in your favourite chair.
What is YSHIELD® SILVER-TULLE EMF Shielding Fabric used for?
YSHIELD® SILVER-TULLE EMF Shielding Fabric is most commonly used for made-to-measure curtains, bed drapes or soft furnishing throws. The fabric is easy to cut and sew it is also used for making shielded garments, lining hats, and adding a layer of protection to wearables.
YSHIELD® SILVER-TULLE EMF Shielding Fabric Graph
YSHIELD® SILVER-TULLE EMF Shielding Fabric Attenuation | Grounding
This product shields high frequency electromagnetic fields (HF). The indicated dB-values apply to 1 GHz, view chart for other frequencies. Laboratory report ranging from 40/600 MHz to 40 GHz according to standards ASTM D4935-10 or IEEE Std 299-2006, view report above.
This product with an electrically conductive surface shields low-frequency alternating electric fields (LF). For this purpose a grounding is necessary, i.e. an integration into the functional-equipotential bonding (FEB), please find suitable grounding accessories under "Grounding".
Silver products
Silver products discolour with time and often already have discolorations right from the start. If you don't want to accept discolorations, please choose Swiss-Shield® fabrics.
Silver fabrics have a limited durability, depending on the frequency of movement.

YSHIELD®

silver fabrics do not contain any nano silver, but a thick metallic silver coating.
Technical data
Width: 130 cm, +/- 2 cm
Length: Available by the meter

Attenuation: 50 dB, two-layer 67 dB
Color: Silver-beige
Raw materials: 80 % nylon, 20 % silver
Weight: 40 g/m²
Dimension stability: +/- 1 %
Surface conductivity: 0.8 ohm / inch (2.54 cm)
Care instructions
Gentle cycle at 30°C
No ironing
No drying in tumble dryers
No bleaching
No chemical dry-cleaning
Wash only with the special washing detergent TEXCARE, without enzymes or bleaching agents