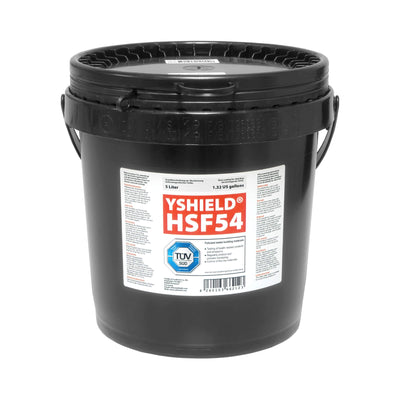 YSHIELD® HSF54 | Standard Shielding Paint
HSF54 is a standard paint with the best all round properties of YSHIELD® paints. This paint can be used for almost all interior and exterior applications. Up to 67 dB shielding. TÜV-SÜD certified. High shielding, adhesion and hardness.
Multiple layers of this paint can be used to increase and enhance EMF and electrosmog shielding properties up to 67 dB. See graph below for results of using multiple coats of YSHIELD® HSF54 paint.
The paint is available in 1ltr and 5ltr and is suitable for both interior and exterior use.
GK5 Primer concentrate needs to be used before and after paint application and in combination with full grounding of all surfaces.
When using on exterior surfaced we recommended the AF3 Fibre additive to assist crack-bridging.
It is very important that the paint is properly grounded for optimal results.
Multiple Layers Add Shielding Protection
By increasing the layers of paint applied you can enhance the protection known as 'screening attenuation' as follows:
At 1 GHz: Single layer 39 dB | Double layer 49 dB | Triple layer 59 dB
At 40 GHz: Single layer 40 dB | Double layer 54 dB | Triple layer 67 dB
NOTE: For optimal 5G protection we recommend using 3 layers of paint.
Grounding
All YSHIELD® paints must be properly grounded to create a faraday cage environment. This is critical to their function. We provide all required grounding equipment such as tapes, straps, connector plates, cables and plugs.
Interior Grounding
We recommend using the EBX grounding strap, ELB stainless steel grounding tape and GW wall grounding plate for interior grounding.
Exterior Grounding
For external use we recommend using the AF3 Fibre additive plus the GE exterior grounding plate.
Paint Adhesion
YSHIELD® HSF54 has excellent adhesion on almost all substrates interior and exterior.
Optional: Fibre additive AF3
For crack bridging and a better grounding on external applications we advise the AF3 Fibre additive with long conductive carbon fibres.
Undercoat
GK5 Primer concentrate needs to be used on all surfaces before YSHIELD® HSF54 application and again before you apply a paint top coat.
Overcoating with paint
Preferably cover YSHIELD® HSF54 with plastic bonded water-based emulsion paints, dispersion silicate paints, facade paints or silicon resin paints.
Fire Resistance
YSHIELD® HSF54 is flame-resistant according to DIN 4102-1 or DIN EN 13501-1.
Frost resistance
YSHIELD® HSF54 is frost resistant (proved for 5 frost-/thaw cycles) and can be shipped throughout the year by air cargo or ship.
Ingredients
Water
Natural graphite
Pure acrylics dispersion
Carbon black
Additives
Preservative (BIT, INN, MIT)
Ready for 5G
YSHIELD® have developed an almost linear shielding attenuation for a very large frequency range. This frequency range has already been including both 5G frequency spectrums: FR1 (600 MHz - 6 GHz) and FR2 (24 GHz - 40 GHz).
Safety up to 40 GHz
YSHIELD® have a professional EMC-laboratory up to 40 GHz on site. In the above graph you can see measuring curves and reports from 40/600 MHz - 40 GHz. These are create for all YSHIELD® shielding products.
No nanotechnology
YSHIELD® shielding paints are developed in accordance with strict ecological criteria. Using for example, the carbon black with the lowest emission possible on the market and untreated natural graphite. YSHIELD® consciously do not use graphene, a nanomaterial where the hazard potential is still completely unknown.
TÜV-SÜD certification
YSHIELD® shielding paints are monitored by TÜV-SÜD. The whole production process including quality control, emission behaviour and economical use of preserving agents is subject to monitoring. The TÜV-SÜD certificate can be seen above.