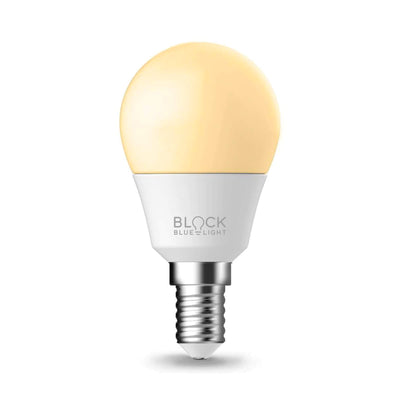 Sweet Dreams Sleep Bulb - E14 (Small Screw Fitting)
SweetDreams lights feature a warm amber
spectrum light and
are the words healthiest light bulbs designed to be used throughout the home
Guaranteed to be 100% blue light free, produce zero flicker, and low EMF.
100% Blue Light Free Amber Light Bulb For Lamps
Our Sweet Dreams Blue Blocking Light Bulb is now available in a small edison screw fitting (e14) which is the perfect fit for most common lamps.
These bulbs feature our same proprietary spectrum technology to produce 100% blue light free, zero flicker, low EMF light. There is no other light bulb available that ticks all these boxes for healthy lighting!
We also have our same Sweet Dreams bulb in the larger B22 bayonet and E27 screw fitting to be used throughout the house as your main light source.
Specs
Colour temperature: 1800k
Peak Wavelength: 585nm
Brightness: 500lm (50 Watt Equivalent)
Wavelengths blocked – 100% between 380-500nm
Input voltage: 220-240v 50/60Hz
Power consumption (watts): 5w
Size: D50mm x H92mm
Base: E14 (screw)
Certifications: CE, ROHS, SAA, RCM