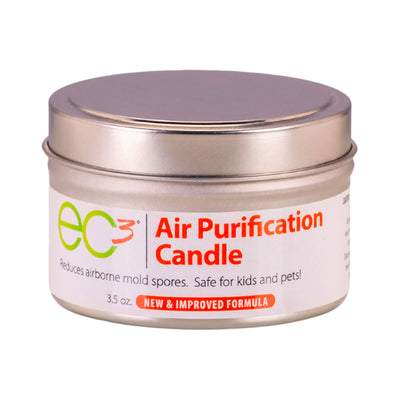 Micro Balance EC3 Air Purification Candle
The Air Purification Candle made with botanical ingredients and soy wax helps to reduce mould and mycotoxin levels
Shields against mould
Mould is a contributing factor in many long-term health problems. As mould grows, it releases spores into the air that are easily inhaled through the nose and mouth. Once breathed in, mould can cause allergic reactions, inflammation, and infection. A high mould count in your environmental air can lead to sickness and can prevent healing.
Breathing clean air is important for good health and quality of life.
The EC3 Air Purification Candle is a simple way to control mould spore levels in the indoor air. The heat from the burning wick aerosolises the natural botanical embedded in the soy wax. The wax has no added fragrances to avoid inflaming the chemical sensitivities common in sinusitis sufferers.
Each candle will burn for approximately 12 hours.
Key Features
Fast acting
Easy-to-use
Natural botanicals embedded in soy wax
Designed to work with EC3 Mould Spray
Part of a complete system for managing indoor mould counts
30-day satisfaction guarantee
The candles are designed to work with other EC3 Products to help maintain a healthier indoor environment.
Directions
Open candle and place on flat surface inside of metal lid, away from walls, and flammable items.
Burn for 3 hours continuously on first use to achieve optimal effects.
Burn for one hour each day afterwards for mould maintenance.
When finished burning, use the metal lid to snuff out candle. We do not recommend blowing it out.
Trim tip off wick before each use for best results. This reduces soot and smoke indoors.
Each candle has a burn life of approximately 16 hours.
A general guideline is to use one candle per 600 square feet of indoor space.
Keep out of reach of children and pets.
Do not leave burning candle unattended.
Do not use EC3 Air Purification Candles if you are allergic to soy.
Product Specification



Weight: 0.34lbs (150g)

LBS Product Size: 3 OZ
Ingredients
Natural Soy Wax, Lead free wick, and a proprietary natural botanical blend.
No added fragrance, so as not to aggravate chemical sensitivities