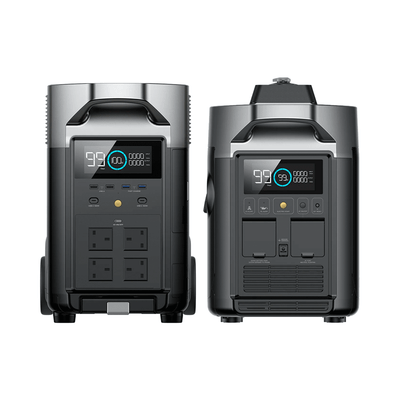 EcoFlow DELTA Pro + Smart Generator (Dual Fuel)
Fuel Your Freedom
EcoFlow DELTA Pro
The portable home battery - DELTA Pro supports a 3.6kWh capacity that can be expanded all the way to 25kWh. The kicker? You can integrate it directly with your home circuits via the Smart Home Panel. Ideal for home backup.
Power pretty much anything - DELTA Pro leads the industry when it comes to AC output. With 3600W you've got a portable generator that can power heavy-duty appliances such as dryers, AC units & more. Need even more power? Pair two units together to hit a massive 7200W.
EcoFlow Smart Generator (Dual Fuel)
Two fuel sources - With either LPG (Propane) or gas, you've got two energy sources to deliver higher efficiency, easier use, and fewer emissions.
Part of the EcoFlow Ecosystem - Set it to charge your DELTA Pro/Max or Power Kits automatically when they drop to a certain level. All while having higher charging efficiency.
Smart control & monitoring - Use the EcoFlow app to control and monitor from afar.
Stay in the know - With 5 alert methods, including carbon monoxide alerts, you're always in the know.
Seamless LPG set up - Plug in propane easier than ever with a switch & built-in regulator for ultimate convenience.
Dual fuel does it better

Go for gas or propane (LPG). With both fuel options, you'll have access to energy no matter what happens. With LPG as an additional fuel source, you get way more flexibility. When the grid is down, it's ideal as an emergency option for your home or RV as gas is hard to come by. Not only that, you can store it longer and create fewer fumes.
Huge capacity for extended blackouts
With a 1600W-1800W*¹ output and a 4L gasoline tank, you can generate 5.4kWh in gasoline or even 20kWh with LPG*². That gives you up to 12.5 hours of runtime with LPG alone. Connect that to your DELTA Pro, DELTA Max and Power Kits to charge up when you're all out of other options. All while using less fuel, producing less noise, and producing fewer emissions.

Save fuel. Maximize efficiency.

When used with your DELTA Pro, DELTA Max or Power Kits, it's way more efficient than alternatives. Saving fuel, generating fewer emissions, and giving a ton of convenience. With that, you can charge DELTA Max to full in 1.5 hours, or DELTA Pro in 2.7 hours.

More fuel efficiency

When charging DELTA Pro, DELTA Max or Power Kits, you can save up to 40% on fuel compared to using other generators & portable power stations.
Essentials running while charging
When a blackout hits, it's important to keep your essentials running. The Smart Generator allows you to not only charge your power station back up, but it also allows you to power your appliances at the same time, outputting up to 1800W*.
Real-time monitoring and control

Once connected via Bluetooth or WiFi, the app opens up a whole world of possibilities. Set your battery level for auto-start, control DC output levels, remote start or stop your unit, and switch on Eco mode, all while getting a full suite of monitoring and alerts. Up close? Use the onboard LCD screen for all your vitals.
Safety first

The Smart Generator (Dual Fuel) keeps you in the know with a carbon monoxide detector, fuel alert, engine oil alert, temperature protection, overload avoidance, and a whole lot more. All are clearly visible with indicators on the unit, and all (excluding fuel alert) can trigger an auto-shutdown to keep you and your batteries safe.
Seamless LPG set up

With LPG, we've made it easier than ever. Plug into the LPG inlet without any tools required. Once set up, you can use the generator seamlessly as it auto-switches modes, allowing you to power up in seconds with the electric start button. We've gone the extra mile too, with a built-in pressure regulator, it's easier to carry your unit.

Easy maintenance and noise reduction
Specs of DELTA Pro
| | |
| --- | --- |
| Net Weight | Approx. 99lbs/45kg |
| Capacity | 3600Wh |
| AC Output | 4 outlets, 230V/16A, 3600W total (Surge 7200W) |
| USB-A Output | 2 ports, 5V, 2.4A, 12W Max per port |
| USB-C Output | 2 ports, 5/9/12/15/20V, 5A, 100W Max per port |
| DC5521 Output | 2 ports, 12.6V, 3A, 38W Max per port |
| AC Charging Input | 2900W Max, 230V~12.5A |
| Car Charging Input | Support 12V/24V battery, 8A |
| Cycle Life | 6,500 cycles to 50% capacity, 3,500 cycles to 80% capacity |
| Dimension | 25*11.2*16.4 in/63.5*28.4*42cm |
| Extra Battery | Support up to two DELTA Pro Smart Extra Battery/Smart Generator |
| Max Device(s) Power Supported by X-Boost | 4500W |
| USB-A Fast Charge | 2 ports, 5V, 2.4A / 9V, 2A / 12V, 1.5A, 18W Max per port |
| Car Power Output | 12.6V, 10A, 126W Max |
| Anderson Port | 12.6V, 30A |
| Solar Charging Input | 1600W Max, 11-150V, 15A |
| Battery Chemistry | LFP |
| Connection | Wi-Fi, Bluetooth, wired |
Specs of Smart Generator (Dual Fuel)
| | |
| --- | --- |
| Dimension | 597x300x475mm |
| Type | Inverter Generator |
| Rated Voltage | 230V |
| Rated Power (LPG) | 1600W (Peak Value 1700W) |
| DC Current | 32A |
| Weight | 30.5kg |
| Frequency | 50Hz |
| Rated Power (Gas) | 1800W (Peak Value 1900W) |
| DC Output Voltage | 42-58.8 V |