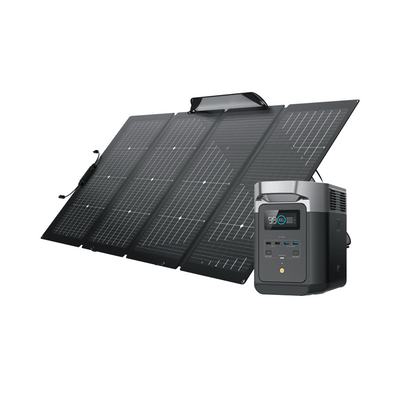 EcoFlow DELTA 2 + 200W Solar Panel
EcoFlow DELTA 2 is a must-have for any home that puts power security & comfort first
Ensure you're prepared with the power station made for almost any situation your family could find themselves in. All while staying green.
1-3kWh Expandable capacity

Huge AC output

7x Faster AC charging

Or go green without sacrificing speed

Built to last 6x longer

Control from anywhere

5-Year warranty
Make it a triple, expand capacity
With a capacity of 1kWh to start with, you've got enough energy for your essentials for hours on end. Need even more? Add on the DELTA 2 extra battery to reach 2048Wh, or add on the DELTA Max Extra Battery to hit 3040Wh. Great for home backup or everyday appliances.
Go green without sacrificing speed
X-Stream tech means you can charge from 0%-80% in 50 mins, or 0-100% in 80 minutes with AC input, that's faster than you'll pack your trunk for the next road trip. Pair with solar panels and charge in as fast as 3-6 hours with 2 x 220W, 1 x 400W portable solar panels. With its MPPT (Maximum Power Point Tracking) smart algorithm, DELTA 2 can actively detect the voltage and current in real-time to reach the maximum power point with >98% efficiency.

More energy with a two in one bifacial design

EcoFlow's 220W Bifacial Portable Solar Panel is two in one. With a 220W primary side, and a 155W side on the back for ambient light, you can capture up to 25% more solar energy and charge your portable power station even faster.

Built to last 6x longer

Finally… tech that's made to last. Get years of regular use until hitting 80% of its original capacity. That's down to its LiFePO4 battery chemistry giving you 3000+ full charge and drain cycles.

Power pretty much anything

A 1800W AC output means you can power more than 90% of your home appliances. That's your microwave, fridge, or even coffee maker covered in a blackout. Or, try plugging in up to 13 devices at once for when you're around the table with the family. Unlike other brands, DELTA 2 can prevent overloading from devices up to 2400W thanks to X-Boost technology.

Control, monitor, and manage your energy use
Use the EcoFlow app to control your DELTA 2 from anywhere using Wi-Fi. Link with Bluetooth when off-grid. Either way, you can check charging data, customize settings and adjust the charging speed with ease.

Built to last

The thin, one-piece tempered glass design of the 220W Bifacial Portable Solar Panel makes it five times tougher than comparable panels with half the thickness of traditional tempered glass. Capable of withstanding heat up to 300°F , it's safe to say it can resist the elements.
What's in the box

1. DELTA 2
2. 220W Solar Panel
3. AC charging cable
4. Car charging cable
5. DC5521 to DC5525 cable
6. User manual
7. App quick start guide
8. Warranty card

*The solar to XT60 charging cable is included only with purchase of EcoFlow portable solar panels.
DELTA 2 Portable Power Station Specs
| | |
| --- | --- |
| Capacity | 1024 Wh |
| AC Output | 4 outlets, 1800W total (Surge 2700W) |
| USB-A Output | 2 ports, 5V, 2.4A, 12W Max |
| USB-C Output | 2 ports, 5/9/12/15/20V, 5A, 100W Max |
| DC5521 Output | 2 ports, 12.6V, 3A, 38W Max |
| AC Charging Input | 2900W Max, 230V~12.5A |
| Car Charging Input | Support 12V/24V battery, 8A |
| Cycle Life | 6,500 cycles to 50% capacity, 3,500 cycles to 80% capacity |
| Dimension | 15.7 x 8.3 x 11 in / 400 x 211 x 281 mm |
| Extra Battery | Support one DELTA 2 extra battery or DELTA Max extra battery |
| Max Device(s) Power Supported by X-Boost | 2400W |
| USB-A Fast Charge | 2 ports, 5V, 2.4A / 9V, 2A / 12V, 1.5A, 18W Max |
| Car Power Output | 1 port, 12.6V, 10A, 126W Max |
| Solar Charging Input | 11-60V, 15A, 500W max |
| Battery Chemistry | LFP (LiFePO4 battery) |
| Connection | Wi-Fi and Bluetooth |
200W Portable Solar Panel Specs

| | |
| --- | --- |
| Rated Power | 220W Front Side/155W Rear Side |
| Efficiency | 22-23% |
| Open Circuit Voltage | 21.8V (Vmp 18.4V) |
| Weight(Solar Panel) | Approx. 9.5kg (20.9lbs) |
| Cell Type | Monocrystalline Silicon |
| Dimensions | 82*183*2.5cm (32.3*72.0*1.0 in) |
| Short Circuit Current | 13A (Imp 12.0A) Front Side/ 8.8A (Imp8.4A) Rear Side |
Frequently Asked Questions

Does the 220W Bifacial Solar Panel generate a full 220W of power?

In most cases, it is normal for a solar panel not to deliver its full nominal power. Some of the reasons why this happens, as well as some suggestions for getting closer to the nominal power figure, are given below. 1. Light Intensity. The amount of light shining on the panel will result in fluctuations to the power output. You are more likely to achieve nominal power output figures closer to those obtained under test conditions when using the product on a clear day during the midday sun, than when using the product in the morning or later in the afternoon. Weather conditions will also affect the amount of sunlight that shines on the panel. For example, you are much less likely to achieve the figures for nominal power in hazy, cloudy or rainy conditions. 2. Surface Temperature. The temperature of the solar panel surface will also affect the amount of power generated. The lower the surface temperature of the panel, the more power will be produced. For example, solar panels generate more power when used during the winter than during the summer, and this is completely normal. Solar panels generally reach temperatures close to 60°C (140°F) during summer. This reduces nominal power by 13%, despite the higher levels of light shining on the panel. 3. Sunlight Angle. In optimal light conditions, the sun's rays should remain perpendicular to the surface of the panel for best performance. Power output is only marginally impacted by sunlight hitting the panel within 10° either side this 90° angle. 4. Panel Shading. The surface of the solar panel should not be shaded during use. Shading caused by shadows, foreign objects and glass can all greatly reduce power output. Performance Issues Caused by Malfunctioning Panels: If the panel still isn't generating power or its output remains far below expected nominal power figures after addressing the issues above, there may be an issue with the panel itself. Please contact Customer Support for assistance.

How much power can the
220W Bifacial Solar Panel generate under normal conditions?
This depends first and foremost on weather conditions. Generally speaking, on a clear day with no clouds in the sky, sunlight hitting the panel at a 90° angle usually generates 160W–180W of power in the 220W panel. (Current light conditions are normally 800W–900W/m2 (74.3W–83.6W/ft2) with a panel temperature of 50°C (122°F) under test conditions. Nominal power ratings are based on 1000W/m2 (92.9W/ft2) in AM1.5 conditions with a panel temperature of 25°C (77°F) under test conditions. Power output figures close nominal values were normally observed in the midday sun during the winter.)

What should I know about the operating temperature, storage and usage of the
220W Bifacial Solar Panel?
The operating temperature of the Bifacial Solar Panel is -20°C–85°C (-4°F–185°F). The panel should be folded into its original shape and stored in its Protective Case (Kickstand), which provides sufficient protection for the product. To extend the service life of the panel, ensure that the product is not exposed to external forces/impacts when not in use. The solar panel itself is made of glass and must not be dropped, pierced, bent, or sat on. These actions may break the glass and render the panel unusable. Any such damage will not be covered by the free warranty.

The
220W Bifacial Solar Panel has two sides. How can I tell which side is which, and how can I optimise power generation using the rear side of the panel?
The front side of the Bifacial Solar Panel has a junction box. This side of the panel generates power by being positioned perpendicular to the sun's rays. Since the rear side of the panel faces away from the sun, it does not generate electricity in the usual way. Generally speaking, the rear of the panel uses ambient light to increase the overall performance of the product by up to 5%-25%. This figure is higher if mirrors are used, or when ambient light levels are high. Using the product with the rear side of the panel facing the sun generates 80% of the power when compared to using the front side. Using the panel in this way does not have a negative effect on the product.

Can I use non-EcoFlow branded power stations with the
220W Bifacial Solar Panel?
Yes, but only certain types. The power station used must be compatible with MC4 standards in order to work properly. In addition, other brands of power station may not offer the same levels of compatibility as EcoFlow-branded power stations, may have lower nominal power ratings, and may not offer the same levels of performance.

Can I connect both 110W and 220W Bifacial solar panels together in series?

Yes, but this is not recommended. While the voltages of the two panels are identical, the current ratings are not. This means that when the panels are connected in series, the current will be limited to that of the 110W panel and the full performance potential of the 220W panel cannot be released, resulting in a 1+2<3 scenario. Please purchase panels of the same size if you intend to connect multiple panels in series.

Can I connect Bifacial Solar Panel in Parallel?

Yes, but this is not recommended. 220W solar panel have a maximum current rating of 12A. Though these panels can be connected in parallel, DELTA and RIVER series power stations only support a maximum current of 12A. Parallel connections increase power output by doubling the current, but connecting the panels in this way would result in a 1+1=1 scenario whereby the current is limited to 12A by the connected devices. We do not recommend connecting the panels in parallel, unless you use a different brand of power station with an input current of 20A or above.