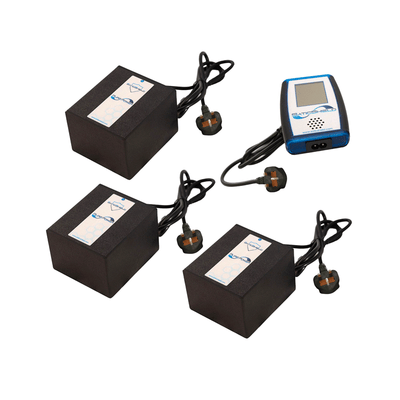 3x Satic Pure Power Plug-in & Satic EMI Line Monitor
The Pure Power Plug-In is compatible with standard 240V socket to reduce negative harmonics and EMF radiation while increasing efficiency and reducing power costs for common appliances such as refrigerators, freezers and air conditioners.
One Pure Power Plug-In will filter and condition the power on the circuits on a single phase (ring main). You will need one plug in for each ring-main.

The Satic EMI Line Monitor measures electromagnetic interference that is commonly referred to as "dirty electricity" or 'DE' on AC power lines.
Once plugged in, the monitor immediately displays total line interference, also referred to as line noise, rated in millivolts as measured from peak-to-peak, ranging from 0-2999mV.
The unit records peak mV while also displaying real-time mV numbers. The LCD display adds a second visual indicator in the form of a visual swoosh-shaped line diagram indicating peak interference before and after filtering as well as displaying voltage.
A speaker adds an audio indication proportionate to the real-time line interference.