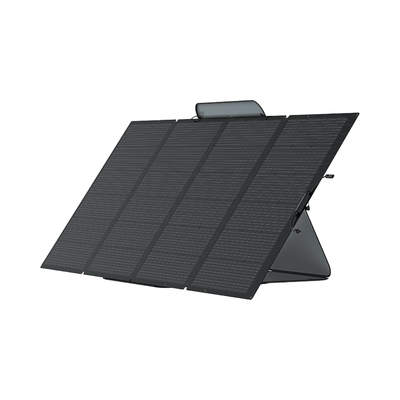 EcoFlow 400W Portable Solar Panel
This one-piece, folding 400W solar panel is perfect for home, camping, and off-grid living
EcoFlow 400W Portable Solar Panel Highlights
Highly Efficient - Solar Panels This one-piece, folding 400W solar panel is perfect for home, camping, and off-grid living. With high solar output and an improved efficiency rating of 23%, you can charge your portable power station even faster than before.
Self-supporting - The protective case conveniently folds out into a stable stand that adjusts from 40-80°, allowing the flexible solar panel to capture the most rays.
Durable and Lightweight - Made from layers of pliable EVA and durable fiberglass to combine the versatility of flexible solar panels with the strength of rigid ones. Weighing only 16 kg, the lightweight design and built-in shoulder strap make it ideal for outdoor adventurers.
Weatherproof - Each monocrystalline silicon cell is covered with ETFE film, protecting against debris, dirt, and water. With an IP68 waterproof rating, this portable solar panel works safely in all kinds of weather, perfect for camping and rooftop use.
Folding and Portable - With a compact design, this 400W solar panel saves space for travel and storage. Easy to set up to charge your portable power station. When you're ready to go, quickly collapse the panel down and slide into the protective case to stow in your van or car.
Use these 400W portable solar panels to convert sunlight into clean, renewable energy. Ideal for camping, campervans, caravans, and for at-home use

Universal

Seamless

Foldable

Lightweight

400W Portable Solar Panels
Our 400W portable solar panel offers high solar output, conversion efficiency rating, and a convenient folding design so it's ready to grab and go at any time.
Charge faster, wherever you go
High Solar Output and a One-piece Folding Design
With a unique folding design, our 400W solar panel combines powerful energy production with portability. To achieve a higher solar conversion efficiency of 23%, we use multi busbar monocrystalline cells, so you get even more energy to recharge your portable power station.
Optimise your energy
An Integrated, Self-supporting Stand
EcoFlow's 400W solar panel comes complete with a protective case that doubles as a sturdy supporting stand. Simply set up your panel anywhere and conveniently adjust its angle to get the most sun possible.
Ready for the outdoors
Made from durable and flexible materials, the portable solar panel is perfect for off-grid living and travel. Its multi-layered design offers high impact resistance for the rugged outdoors, while its 16 kg light-weight means effortless carrying to a campsite. A rigid layer embedded in the carry case protects the panel from overbending when you carry or store it.
Built to weather the storm
Our 400W solar panel can carry on collecting energy even during a downpour. With a protective ETFE film and a high IP resistance level of 68, the solar cells can withstand environments from humid and wet to dry and dusty.
Take solar power on the go
EcoFlow's 400W solar panel is a camping or RV must-have. The compact design saves valuable space for your other travel essentials. When you're ready to head off on your next adventure, simply collapse the panel down to store in your van or car.

What's in the box
1. 400W Solar Panel 2. Kickstand Case 3. Solar to XT60 Charging Cable 4. User Manual


Specs

| | |
| --- | --- |
| Rated Power | 400W |
| Efficiency | 22.60% |
| Open Circuit Voltage | 48V (Vmp 41V) |
| Weight(Solar Panel) | Approx. 35.3lbs (16.0Kg) |
| Cell Type | Monocrystalline silicon |
| Dimensions | 41.7*93.1*0.98 in (105.8*236.5*2.5cm) |
| Short Circuit Current | 11A (Imp 9.8A) |
| Weight (with Kickstand Case) | Approx. 41.9 (19kg) |
Frequently Asked Questions
Are portable solar panels effective?

Portable solar panels are an extremely effective, clean, and renewable way to charge a portable power station. EcoFlow 400W portable solar panels have a larger wattage than typical solar panels and are more efficient due to their monocrystalline cells. String up to three 400W portable solar panels and use with a DELTA Pro portable power station for an input of 1200W. Additionally, EcoFlow portable power stations use an MPPT algorithm to ensure a constant energy supply. Unlike static solar panels, portable solar panels are easily moved and adjusted depending on where the sun is in the sky.

Where can portable solar panels be stationed?

Positioning portable solar panels at an angle between 30-45 degrees, facing the sun's direction, is best. EcoFlow portable solar panels have a built-in stand that can be adjusted depending on the time of day.

Which solar panels are best for camping?

Solar panels that are portable, foldable, and lightweight are the best kind for camping. Pair with a portable power station for immediate power that is clean, green, and renewable.